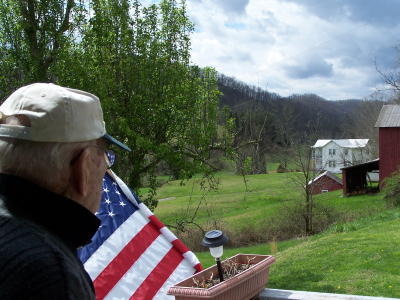 Centenarian Eucle Knotts lives within eye-shot of the Minnora
house in which he was born in 1909, his father Howard Knotts was
a farmer, driller and pipe-liner
By Bob Weaver REPUBLISHED 2009
Newspaper reporter Michael Lipton called Minnora resident Eucle Knotts, "the cat-bird of Calhoun County."
Eucle is approaching 100 on May 18.
Eucle, who still likes to take a nip and smoke cigarettes, admits "My greatest weakness has been women."
Still alert and maintaining himself, his mind is full of history and his body can still do "the West Fork shuffle."
"My son calls me up and tells me about those things you have on the Internet (Hur Herald) about me," he said, "including me dancing with those young girls. I think he's jealous."
"There was four Knotts houses along this part of the West Fork," pointing up and down the valley, "Some of the best houses in the county."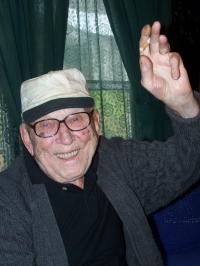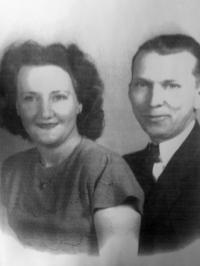 Eucle, a long-time cigarette smoker says, "I was off-em 20 years once," and says "My Bible doesn't say it's a bad thing to drink a little wine," shown (above) with wife of 72 years, Velma Vannoy Knotts, married in 1931
Eucle said one of his best memories was his grandfather Joseph Knotts taking him on the back of a horse to Spencer in 1918 (he was nine) down the muddy West Fork road that frequently crossed the small river.
"We'd stay one night in a boarding house in Spencer, get on the train to Ravenswood, switch trains and travel to our relatives who lived in Gauley Bridge...Grandpa really liked me, and he showed it"
One of Eucle's favorite stories is about a Washington District Justice of Peace, who was among the area's prominent prohibition bootleggers.
The JP summoned several of his helpers, including Eucle, to be jurors in a case against a Nicut man, accused of sexual imposition with a local female.
The jury trial was held in the justice's parlor off Milo Road, with at least ten individuals participating, including the accused's attorney George Griffin.
Eucle said as the hearing began, liquid began to drip from the ceiling, causing a puddle to form. The justice excused himself, went upstairs to the attic to discover his 55-gallon barrel of rye whiskey was over-working and spilling.
"He grabbed some pots and pans and fixed the problem," returning to the hearing, angrily exclaiming, "That wife of mine just keeps over-watering those flowers."
The jury found the man not guilty.
Eucle rattled off a long list of Washington District moonshiners, saying "Most of them were good people," but a few down on Rush had a bad streak, and ended up shooting each other."
Sheriff Charley Offutt came up here to "clean out the bootleggers, but he got shot and went back to Grantsville."
He recalls the first road improvements of Rt. 16 in the 1920's, grading and relocating some of the highway. "Curt Hathaway and his boys did a lot of the work, mostly using horse teams, but they had one dump truck, a coal driven steam shovel and lots of dynamite." he said.
A few years later, in the early 1930s, convict labor improved the West Fork road, napping rock into the roadbed and early paving began.
"The prison labor camp was on Grandpa Knott's farm (Joseph), a hundred or so men. Once in a while they'd run off and cause a little problem around here," Eucle said.
Eucle and his late wife of 72 years, Velma Vannoy Knotts, moved back to the county in 1974, following retirement from Goodyear Tire and Rubber in Akron. In the 1930s he worked on building the Pennsylvania Turnpike. They have three children, Robert Knotts and Debbie Fry, a son Calvin is deceased.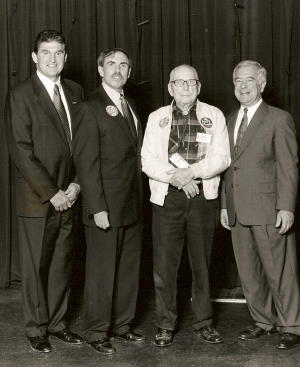 Eucle was Calhoun's Democrat of the Year in 2004, shown (L-R) with Gov. Joe Manchin, former Gov. Bob Wise, Eucle and Congressman Nick Joe Rahall, when introduced at Charleston dinner, Eucle danced across the stage, causing the audience to rise to their feet and cheer
Knotts describes himself as a rabid Democrat, and watches politics and ballgames on TV. He frequents Calhoun's Senior Center and attends the Minnora church.
"I've lived in a rapidly changing world, from horse and buggy days to cars, airplanes, TV, computers and space travel."
Eucle watched one of the first space launches at Cape Kennedy, and remains fascinated with the "city above the world."
"As a young man, I always dreamed of having a convertible car and a boat. I got'em both."
Expressing concern about how the world is going, the centenarian continued to express hope for humankind, pointing outside, "Look at that wonderful world out there."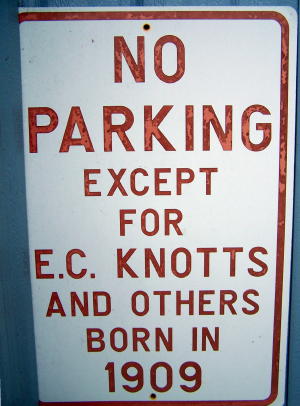 EUCLE KNOTTS - Cat Bird Of Calhoun County
98-YEAR-OLD EUCLE KNOTTS INDUCTED WV VOTER HALL OF FAME
EUCLE DANCES A THANKSGIVING JIG