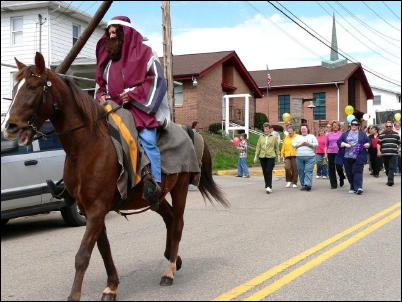 Larry Butler portrays Christ in Palm Sunday
parade in Grantsville (Photos by Anita Vannoy)
Palm Sunday was celebrated in Grantsville with a depiction of Christ's triumphal entry into Jerusalem the week before his crucification.
Local Christians traveled behind the Christ-figure on mounted steed through the streets of Grantsville between the First Baptist Church and Knotts Memorial United Methodist Church.
The event is sponsored by the Minnie Hamilton Health System Chaplains Association.
On Palm Sunday Christians celebrate the Triumphal Entry of Jesus Christ into Jerusalem, the week before his death and resurrection. For many Christian churches, Palm Sunday marks the beginning of Holy Week, which concludes on Easter Sunday.
Christian churches distribute palms on Palm Sunday to commemorate Christ's triumphal entrance into Jerusalem, when palm branches were waved and placed in His path. Immediately following this great time of celebration in the ministry of Jesus, he begins his journey to the cross.