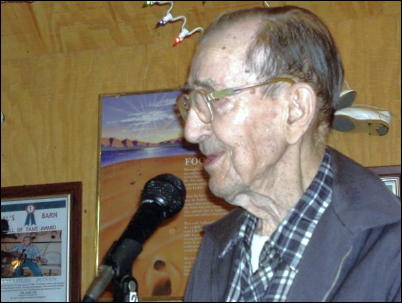 Willard Jones takes to the stage performing his old favorites,
and celebrating his 91st birthday (Photo by Esther Wilson)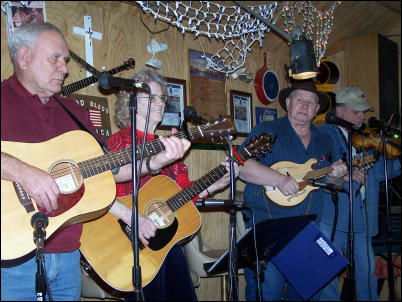 Regional music makers join in birthday celebration
By Bob Weaver
The "Mayor of Five Forks" Willard Jones took to the stage at Al's Barn in downtown Munday Friday night, belting his famous mule song and a number of other favorites.
Folks at Al's Barn and the community of music makers and friends celebrated Jones' 91st birthday with a large cake and a buffet.
Creator of the barn, Al Hogan said, "At one time on the stage was four generations of Jones banjo players, Willard, Charlie, Richard and Ritchie."
Stretched across the wall of the barn is Al's "Wall of Fame," recognizing many of the regions mountain music makers, many of which have gone on to their reward.
Willard's son, Charlie, brought a banjo Willard bought for $7 before World War II. Willard said when he came home from from WW II, Charlie was a small boy who began plucking on the banjo while crawling on the floor.
Willard said he was feeling "pretty good for an old man."
"They about wore me out at the Koffee Kup in Grantsville this week celebrating my birthday," Jones said.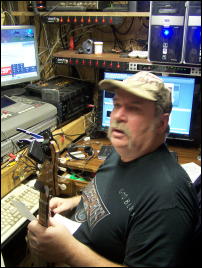 Willard and Charlie cutting cake; Al Hogan working in music studio
Al Hogan, who is well-known to the community as a man dedicated to helping others, has a new project in his recording studio.
He is installing equipment that will allow a live video and audio streaming on the Internet of music making at the barn every Friday -"Live from Al's Barn."
"We're still working on the technical details," he said, and "When we get all the bugs out, it will allow a lot of folks to enjoy what's going on here."