Kelly Bell's interest in ghosts started ten years ago,
founding the Mt. State Paranormal group five years ago
By Bob Weaver 2009
Polls say that about 50% of Americans believe in ghosts and that 22% claim they have actually seen or felt a ghost's presence.
Calhoun resident Kelly Bell, founder of Mountain State Paranormal, is a 100% believer in ghosts, having participated in hundreds of investigations in West Virginia and five other states.
Bell's group does weekend investigations, and is already booked just about every weekend through June.
"We only use scientific evidence," Bell said, as she demonstrated some of the equipment used by her 15-member group.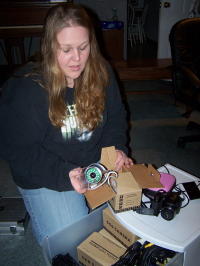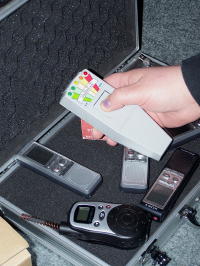 Bell demonstrates some equipment
used in paranormal investigations
A ten year veteran, she says that most ghosts are friendly, but there are times even she has had the hair on her head stand up, including one experience in a Calhoun cemetery when a spirit kept circling her feet and then grabbed her leg.
"The investigations are taken seriously," she said, but indicates the work escalates when it is a demonic case.
Her group is associated as a family member of The Atlantic Paranormal Society (TAPS) whose founders are well known for the "Ghost Hunters" TV show on the Sci-Fi Network.
"We've been all over West Virginia, including a few investigations in Calhoun County," she said, saying she participated in a group investigating the Sis Linn ghost at Glenville State College.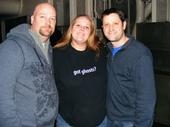 She was involved in a ghost hunter investigation at the old Weston State Hospital, Bell is acquainted with the creators of the famous "Ghost Hunters" TV show, Jason Hawes and Grant Wilson (pictured left).
Bell says " Mountain State Paranormal's goal is to find the truth, assist, and to educate those who are experiencing paranormal activity."
"We use scientific research to prove the existence of paranormal activity," she said.
Bell checking-out large collection of ghostly photo images