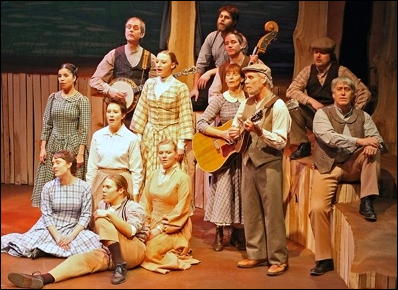 The cast of "Brother Wolf" during the plays introductory song
Calhoun County native Morgan Grahame, a 2001 graduate of Calhoun High School, is currently appearing in the play "Brother Wolf" at the Human Race Theatre in Dayton, Ohio.
"Brother Wolf" is a musical adaptation of the epic poem, Beowulf, lifted from its original Scandinavian/Anglo Saxon environment and transported to 19th century Appalachia and liberally sprinkled with traditional mountain music in the spirit of "O brother Where Art Thou?"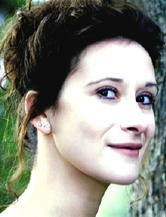 Writing in the Dayton Daily News, theatre critic Terry Morris begins his review with: "You may not remember the songs in "Brother Wolf" ... You won't forget the cry of pain that escapes Grin Dell's Maw, played by Morgan Grahame, when she learns he's been slain, or the lust for revenge she expresses in every breath ... The villainous duo of the monster Grin Dell and his Maw is the main attraction in a unique presentation of the play."
Active Dayton, a weekly entertainment publication says anyone seeing this noteworthy production will come away with admiration for Morgan Grahame who gives an excellent performance as Grin Dell's Maw.
Grahame is vibrant and vital in movement and voice, the review continues.
The Journal News calls Grahame "delightfully evil as Maw."
The Dayton City Paper calls it an excellent production and praises the "masterfully deranged performance by Morgan Grahame as Grin Dell's unrelentingly vengeful mother."
Grahame has worked as a professional actor in the Cincinnati-Dayton area since graduating from Davis and Elkins in 2005.
She won a Supporting Actress DayTony in 2008 for her role as Anne in the Victoria Theatre's production of Shenandoah.
Grahame is a member of Actors' Equity, the professional actors union, and a longtime student of Jude Binder at Heartwood in the Hills.
She is the daughter of Neil and Susan Grahame of Minnora.