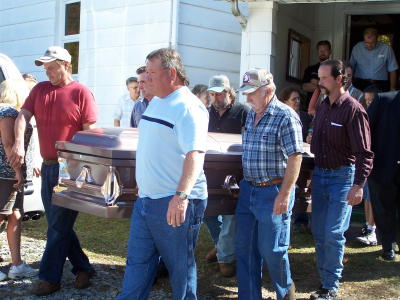 A beautiful fall day for Norv to be carried to his resting place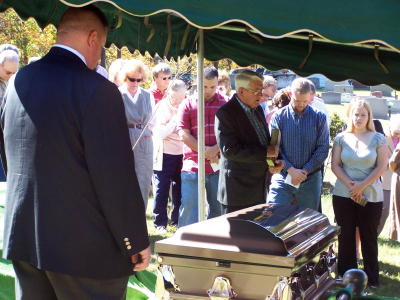 Pastor Carl Marks (right) recalls Norv's life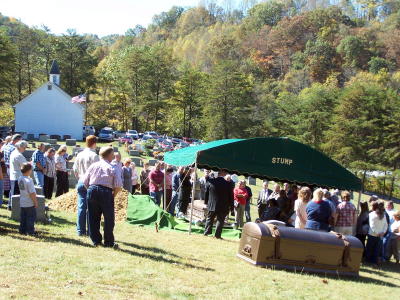 People hung around to talk, just like days gone by
By Bob Weaver
If Norv McCune, 89, could return and use his storytelling skills, he would likely revel about his funeral yesterday at Orma, with his relatives and neighbors coming to his interment.
Nearly all had a tale to tell about him, agreeing that his passing is a benchmark in county history, a man who represented the last of old-time farming and a work-ethic that seems to be fading.
His passing, among the mourners, was a personal recognition of changing times, a quiet grief, a loss of what his life represented in the Calhoun hills.
Norv's broad how-to-do skills, everything from using a horse team to blacksmithing, are little known to most of use who have lurched into the 21st century.
Most had conversations about his ability to live on the land, his generosity and a work hardiness until the day he died.
Calhoun historian Norma Knotts Shaffer said "He was a jewel with his storytelling," while historian Jim Mullooly of Wheeling said "I marveled at his recall of events, telling them like they happened only yesterday."
Following the benediction by Pastor Carl Marks, there was little movement to leave the hilltop, with people hanging on to talk some more, a tradition and custom before the world got busy.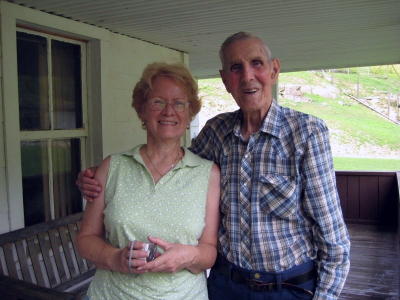 Norv and cousin Midge McCune, one of a large group
that visited him in July, Norv stayed busy right up
to the end, attending community events and passing
away in his field, working (Photo by Erin Rader)
Norv brought out his favorite relics to show McCune descendants,
a multitude who visited him on Crooked Run in July; Old Peter
McCune's father's hair, tucked in a razor holder wrapped
in a piece of Irish linen (Photo courtesy of Erin Rader)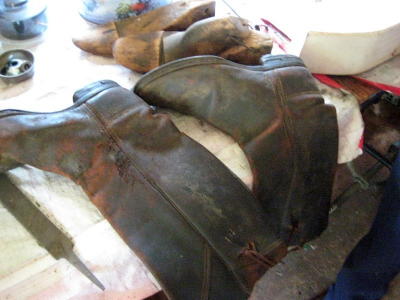 Norv shows family member boots that belonged to Peter
McCune, brother of Paulcer, circa 1800s (Photo by Eric Rader)