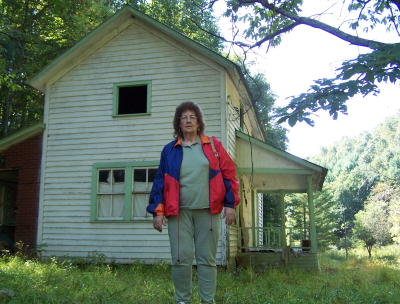 Cleo Lawson Newell, in front of the old Lawson
homestead at the edge of the Bear Fork wilderness
The Lawson family came to the Bear Fork wilderness area in the 1800s.
Early-comer Sam Lawson wrote about his early life, re-published in the Hur Herald.
Sam Lawson Recalls Bear Fork Life
The Lawson-Schartiger family returned to their roots for a recent reunion at old Sam's stomping grounds, with the event held at Kenny Shartiger's cabin.
Cleo Lawson Newell of Orma grew-up in the woods, her father and mother John W. and Zana Tucker Lawson lived in the old log cabin, which was modernized over the years.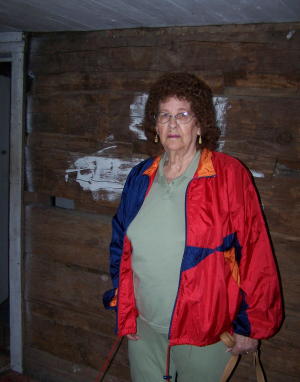 Cleo Newell, now 82, inside the log structure,
said she had eleven brothers and sisters