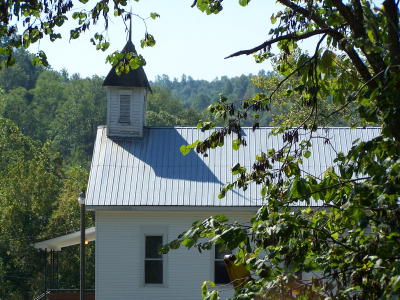 150 years ago "Billy Bluehead" Starcher was sitting on
this spot declaring the opening of Walnut Grove Church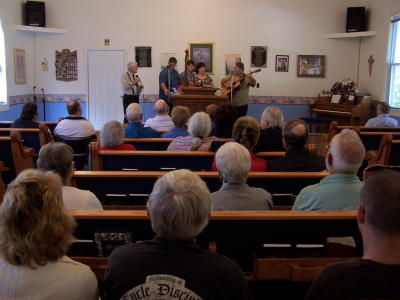 It was homecoming time, with former residents returning to visit
A small chunk of time has gone by since the original Walnut Grove Church was built 150 years ago near the mouth of Barnes Run along the West Fork of the Little Kanawha.
Yesterday, old timers and newcomers came to the anniversary day and homecoming, to participate in worship, enjoy gospel music and a covered dish feast.
The Walnut Grove Church is located near the long-gone Village of Rocksdale.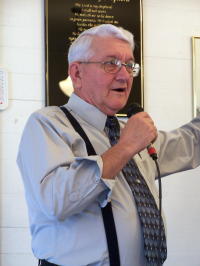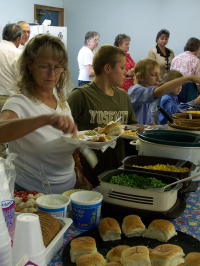 Pastor Marks preaches and sings members
and guests enjoy bountiful dinner
Pastor Carl Marks welcomed his congregation and guests, who enjoyed music by the David Bowen family and the Templegates.
There was surely the presence of long-gone Rocksdale resident William "Billy Bluehead" Starcher, who owned several hundred acres up and down the West Fork, a shaker and mover in starting the church.
The agreement for the start-up of the church stated "We the undersigned doth agree to pay William Starcher, Henry Brannan and Alford Starcher, trustees appointed to superintend the completion of a meeting and school house, open to all preachers who preach the gospel..."
Former Rocksdale resident, Albert Ball, recalls "The Walnut Grove Church property bordered a corner of our farm. Even though we were not members (we were Baptist) we occasionally attended church services and revival meetings there, particularly in the winter when the dirt roads were often scarcely better than ox-team paths."
"The church had no piano and I don't recall that they had hymnals. However, on occasion, a male quartet would sing. One quartet group member that I particularly enjoyed was of a fairly chunky bass singer whose name I believe was Bill Slider."
"This man's deep, bellowing voice could practically rattle the windows. His timing was perfection personified. Seventy years since, whenever I hear a tuba blurt out a string of low notes that rapidly and methodically rise in pitch from the "basement," I immediately think of Bill Slider."
A lot of water has flowed down the nearby river this past century and a half - the West Fork of the Little Kanawha - and thousands of people from Altizer, Henry's Fork and Rocksdale have worshiped in the sanctuary.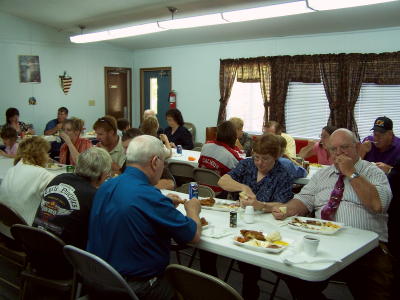 The church now has a modern kitchen
and social area for special occasions