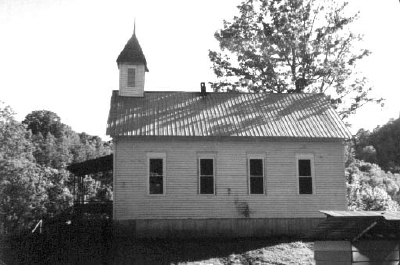 Walnut Grove Church 1858-2008
The Walnut Grove Church is located near the long-gone Village of Rocksdale along the West Fork near the mouth of Barnes Run.
The church is celebrating 150 years.
Pastor Carl Marks is welcoming the community to a Homecoming, scheduled for Sunday, September 21.
Marks says "There will be preaching, singing and a covered dish dinner about noon," with the David Bowen Family and the Templegates scheduled to sing from 1-3 p.m.
Rocksdale resident William "Billy Bluehead" Starcher, who owned several hundred acres up and down the West Fork, was a shaker and mover in starting the church, which was also designated as a school and meeting house.
The Barnes Run church, school and meeting house, later named the Walnut Grove Church, was launched in 1858.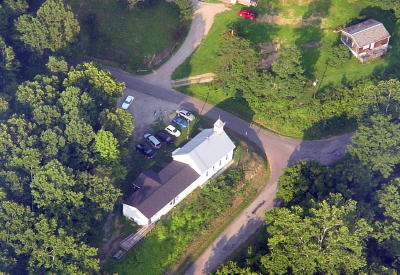 Aerial view of Walnut Grove Church in 2005 taken by
Dustin Simmons from Harry Simmons' Flying Machine
The first official sermon in the West Fork area was preached at the home of Phillip Starcher near Altizer, Billy Bluehead's father.
Legendary Methodist minister Lorenzo Dow rode into the area in 1820 for the service, reports said it was well attended.
It was Reverend George Martin that is credited with bringing the Methodist church to the county, teaching classes in the home of Thomas Jarvis in 1836.
Some of the early Calhoun students included Joseph Knotts, Mary Knotts, Alsa Jarvis, Caleb Jarvis, Dianna Jarvis, Hannah Hardway, Patrick Conley, Tarleton Vaughn and his wife.
Samuel Black brought the Methodist Episcopal-South church to Arnoldsburg in 1848.
The Walnut Grove Church was started by several "subscribers" in January, 1858, listing the following supporters:
Jacob Starcher, provide roof
Alford Starcher, floors, door and window shutters
Jacob Starcher $10
Alford Starcher $5
Phillip Starcher $5
Issac Nutter $5
Henry Brannan (Brannon) $5
Levi Nutter $5
Henry Starcher $3
William Starcher (Billy Blue Head) $5
The agreement for the start-up of the church stated "We the undersigned doth agree to pay William Starcher, Henry Brannan and Alford Starcher, trustees (appointed to superintend the completion of a meeting and school house) open to all preachers who preach the gospel. The sum annexed to our names in work on said house to be done on or before the first day of April next."
"The said house to be 22 feet square with two plank floors joined and nailed down, one window six lights, window and two sides of the said house one high window. The chimney to be stonework 8 feet high, one door with lock and latch. Roof - three feet boards nailed on."
The original church was replaced by a "modern" structure, likely about 1915.
The church was the site of a large funeral service for a KKK member in the 1920s, klan members essentially took over the funeral of Bruce Riggs, carrying his casket to the nearby Winner-Ball Cemetery.