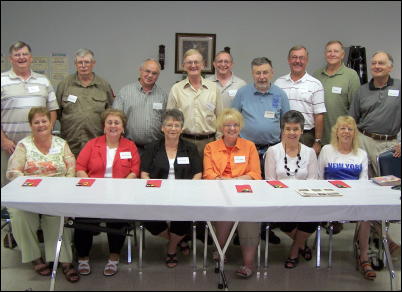 (Front L-R) Connie Bailey, Rebecca McKown, Carolyn Heiney,
Mary Kay Wilson, Judy Morton and Diane Yoak (Rear L-R) Walter
Cain, Carroll Miller, Phillip Nicholas, Bernard Yost, Ronnie
Little, David Barrows, Steve Fox, Gary Bailey, David Campbell

The Calhoun High School Class of 1963 returned to the county this past weekend to renew acquaintances and share memories, forty-five years after graduation.
Fifteen grads returned, with husbands or wives, from a class of 94 grads.
The biggest event of 1963 had to be the assassination of President John F. Kennedy. Turmoil was increasing in Vietnam and over civil rights in the USA.
The Beatles launched Beatlemania with "I Want To Hold Your Hand," and gasoline cost 29 cents a gallon, bread was 22 cents a loaf and the average cost of a new car was $3,233.
The class recognized ten members who are deceased, Carolyn Sue Haddox Nichols, Jewell Luzader, Carl Miller, Ronald Hartshorn, Donald McKown, Steve Robinson, Carl Edward Smith, Bryan Ward, Jr. and Shirley Westfall Mace.
The class celebrated at the Grantsville Senior Center.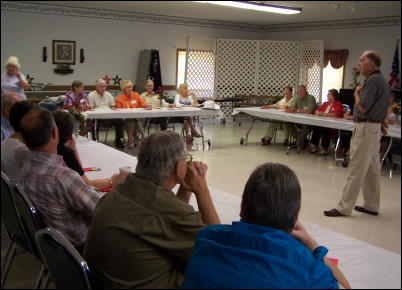 David Campbell welcomes his class-
mates, 45 years after diploma time