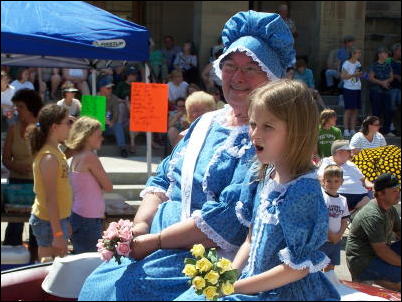 2008 Calhoun Belle Patricia Radabaugh appeared in Wood
Festival Parade with great-granddaughter Mikaela Long
Patricia Radabaugh of White Pine Road has been selected to represent Calhoun as a 2008 Belle at the West Virginia Folk Festival in Glenville, June 21-22.
"I have enjoyed giving back to my community over the years," she said.
Pat has been a member of the Calhoun Community Educational Organization (CEO) for 40 years, presently serving as county president. She has been a member of the Pleasant Hill CEOS, serving in most every position.
She has been the Parkersburg area representative and WVCEOS president, vice president and treasurer. She represented West Virginia at the Associated Country Women of the World in New Zealand, an organization of nine million rural women in more than 70 countries.
Pat is active in the Pleasant Hill United Methodist Church, serving as a lay speaker, Sunday School teacher and assisting with the Angel Food Ministries program.
She is also involved in Friends of Minnie Hamilton, manages and works in the Sunshine Corner Gift Shop, also a member of Chapter #73 Order of the Eastern Star.
After working at Grantsville Florist for 21 years, she continues to teach at floral workshops. Her hobbies include reading, sewing and volunteer work.
She has been married to Duane Radabaugh for 54 years, 20 of these years when he was in the military.
She and Duane have two children, Marcia Swisher and Michael Radabaugh, two granddaughters Amber Long and Tiffany Swisher, two great-grandchildren Mikaela Long and Landon Summers.