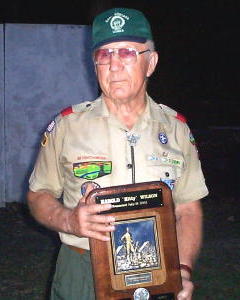 A Calhoun man has been chosen for his extraordinary service to his community.
A Governor's Service Award for Lifetime Achievement has been presented to longtime scoutmaster and community servant Harold "Kitty" Wilson of Grantsville.
Wilson was among few selected from state-wide nominations for the Governor's Service Awards, annually coordinated by the West Virginia Commission for National and Community Service.
The awards recognize West Virginians who display enduring commitment for the betterment of the state through volunteerism.
Wilson was nominated for the honor by Richard Kirby.
He will receive recognition from Gov. Joe Manchin in a special banquet at the state volunteerism conference, "Faces of Leadership," in Charleston on July 16.
Volunteer West Virginia Inc. will also use private funds to donate $500 to a West Virginia charitable organization designated by Wilson.
See also Wilson Honored At Camp Kootaga
50 Years Of Scouting - Harold "Kitty" Wilson Honored
A Gathering of Eagles - Tribute To Harold "Kitty" Wilson