Calhoun man Eucle Knotts, 98 (center)
receives honors from Calhoun Clerk Richard
Kirby (L) and Secretary of State Betty Ireland (R)
By Bob Weaver
Calhoun's most dedicated Democrat, 98-year-old Eucle Knotts, was inducted into the West Virginia Voter's Hall of Fame yesterday, during a special ceremony at the courthouse in Grantsville.
Secretary of State Betty Ireland honored the Minnora man, who has voted in every election for the past 50 years, although his actual voting record far exceeds that number.
Knotts told Ireland stories about early Calhoun politics, from vote buying to political maneuvering.
He danced the West Virginia shuffle for the Secretary of State when she presented him with honors.
Ireland said Knotts has a "lifelong record of voting, now to be honored for his honorable and distinguished place in West Virginia voting history."
EUCLE TELLS TALES AND DANCES A JIG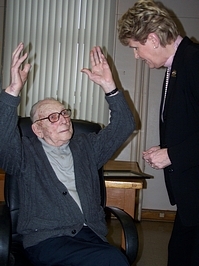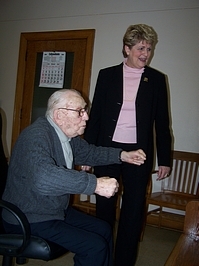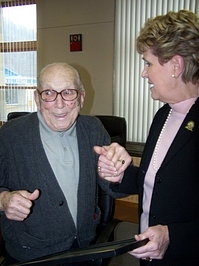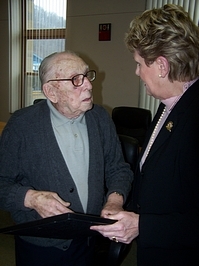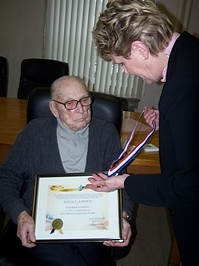 See Additional Eucle Knotts stories:
Eucle Knotts-Cat Bird Of Calhoun County
95-Year-Old Eucle Knotts Democrat Of The Year