CALHOUN MAN'S SONG RECORDED

If you ever loved your dad and mom of if you're a dad or mom, your spirit will be moved by Calhoun resident Arnold Joe Miller's song "Love Like That," which has now been recorded and can be downloaded at www.amazon.com

By Bob Weaver 2008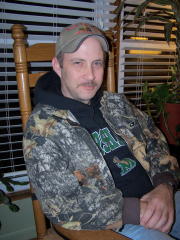 Joe Miller of the greater Hur community is always pickin', singin', hummin' and whistlin'.
Joe's inclination is a country tradition that goes deep into the roots of Appalachian culture.
You could hear it at McCoy's Store at Hur or Charley Starcher's emporium down on Slider Fork.
Music making was not only public, but filled endless hours of quiet in country homes, time between storytelling and meals.
Singing hymns at the Mt. Olive Church at least twice a week was an outlet for those with a pent-up music gene.
Even those who could not carry a tune, tried.
Joe started playing instruments in high school, but settled on guitar and keyboard by the time he was 20. While he has mostly played in local rock bands for years, his songwriting extends to country and gospel tunes.
Joe's latest song "Love Like That" tugs deep at the heart strings of most listeners, as does his gospel song "The Talk."
"I wrote 'Love like That' on little notes while driving down the road delivering the mail," said Joe, who has been a part-time mail carrier for many years.
Playing in local bands for years, he admitted that his life-long interest in music making was slipping until his friend, well-known drummer Troy Luccketta of the famous rock band Tesla, listened to some of his tunes.
"Troy told me I had a connection to life that allows me to put words into song," Joe said.
Since then Joe says I've taken time to "look around me and be inspired."
"I really hope folks around here enjoy the country and gospel songs I have written," he said, indicating he is going to keep music close to his heart and keep performing.
A little bit about Joe's dad and mom MAILMAN JOHNNY MILLER WINDING UP 43 YEARS - "Where's My Paper?" Learned Customers Routines