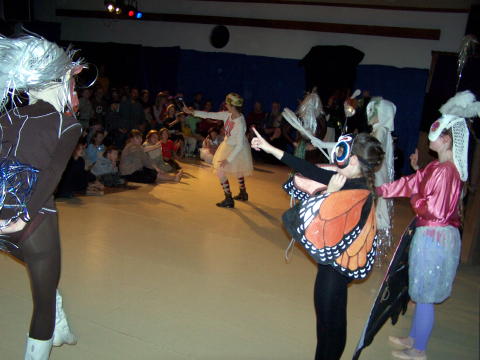 "Goldie's Dream" one of Heartwood's award
winning performances throughout 25 years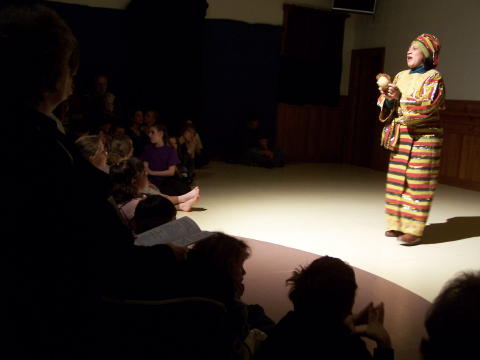 Artist Ilene Evans returns to enchant audience attending celebration
By Bob Weaver
A Calhoun treasure, Heartwood in the Hills, has been celebrating the artist in every person for 25 years.
Love's labor has never been lost at Heartwood, the project being dedicated to the children of Calhoun and several regional counties.
Hundreds have come to be taught and inspired, to go back into the world with an awareness of their talents, abilities, and issues of social justice.
The anniversary was recognized Saturday evening with a special performance - "Look Back-Dream Forward" - with a number of former and current Heartwood artists and students performing before a packed crowd.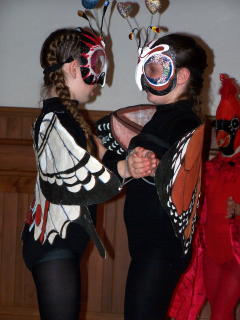 Heartwood has taken Calhoun and
regional residents on a wonderful journey
The December celebration featured performances by guest artists Ilene Evans, Ginny Hawker, Elaine White and Gideon Kendall.
They joined Heartwood performers in a nostalgic remounting of several productions from the 25 years.
The enthusiastic audience enjoyed pieces from such productions as Earth Air Fire Water, Goldie's Dream, Broken Bough, Song of the Sidewalk and Field of Flowers.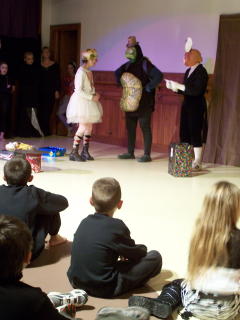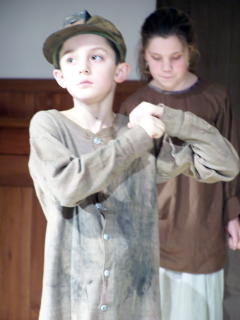 Heartwood's mascot turtle and rabbit make appearance
Students deliver excerpt from "Broken Bough" a play about child labor
Twenty-five-years ago artistic director Jude Binder and Heartwood's co-founder Frank Venezia built the first structure and opened the doors to the public.
Jude Binder recognized the generosity of Heartwood's supporters and many individuals who have given their time and talent.
Heartwood uses theatre, music and dance to address issues of social justice, striving to develop critical thinking and to spark a desire to learn and change things for the better.
Heartwood's award-winning productions have addressed racism, environmental awareness, child labor, homelessness, nuclear war and domestic violence.