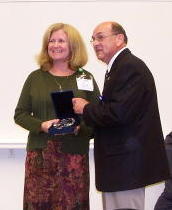 Submitted by Barb McKown

Barbara Lay of Minnie Hamilton Health System was the recipient of the Outstanding Rural Health Achievement Award, at the 2007 Rural Health Conference on October 24.

The award recognizes an individual or organization for leadership and noteworthy initiative. The recipient of this award will have succeeded in many areas pertaining to the development of community oriented rural health care delivery.

Factors for selection include: distinctive efforts to promote rural health care, a demonstration of leadership, effective networking, and coordination of interdisciplinary health care delivery, innovation, and community involvement leading to improved access to health care.

Barbara Lay is the Chief Executive Officer of Minnie Hamilton Health System and has been a constant beacon of support for rural health care in Calhoun County.

When Calhoun General Hospital closed for business at midnight on January 10, 1996, the board of Directors, along with Barbara at the helm, decided to take a "leap of faith" and voted to expand Minnie Hamilton's services to include some of the services previously provided by Calhoun General.

Through a series of meetings with Federal and State representatives, staff and board representatives from Calhoun General, Minnie Hamilton, Calhoun County EMS, the public health department, and community members, a new model was defined which provided for local coordination.

The new model is an integrated service network under which Minnie Hamilton expanded services to assure continuity of care, eliminated duplicative services, and absorbed the outpatient activity of both organizations.

Since this "leap of faith" was taken, Minnie Hamilton has continued to expand services providing primary care, oral health, emergency care, physical therapy, radiology, social services, outreach, lab, medicine and even a child day care program to name just a few.

Barbara is an outstanding Hospital Administrator and serves as the chair of the WV Hospital Association Critical Access Hospital Network. She has a true devotion for rural health care and her community. Congratulations to Barbara Lay for a job well done.