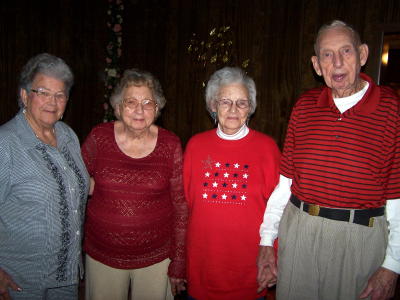 THE STALNAKER KIDS (L to R) Naomi, 82; Emma, 87; Juanita,
90 and James, 92, missing is sister Brunna, 98, of Mesa AZ
It was a grand get-together for the Stalnaker clan at Orma over the weekend, with four of five living children of Clark and Nora Hughes Stalnaker enjoying the day at the Emma Deel residence at Minnora.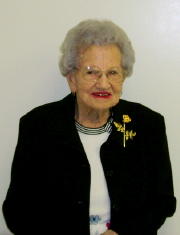 Those attending were, Naomi Stalnaker Sims, 87, of Waterloo SC; Emma Stalnaker Deel, 87, of Orma; Juanita Stalnaker Shorb, 90, of Pine Top NC and James Stalnaker, 92, of Spencer. Unable to make the gathering was sister, Brunna Stalnaker Penman, 98 (left) of Mesa AZ, who sent a letter recalling her childhood memories with her siblings.
The five deceased Stalnaker children are Fenton, Euell, Eucle, Bee and Eupha Stalnaker Jones.
The Calhoun origins are linked to William A. Stalnaker (1858-1948), who married Louverna Chenoweth (1865-1940) and moved to Triplett, Roane County, living there until 1900 when they purchased land at Rilla (later named Orma).
"William had a store and post office at Orma, and was also a Justice of the Peace," according to James Stalnaker. They had seven children, all buried at the Sycamore Baptist Church Cemetery on Mt. Zion Ridge. Nearly all of them lived on the waters of the West Fork.
The Stalnakers have had a Calhoun reunion, most recently held in September, for over 80 years, likely the longest continuing such gathering in the county.