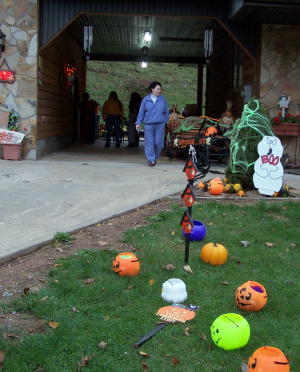 Hordes of Arnoldsburg area kids and adults stopped
at the Marks' garage for a few chilling moments
It was fright night in the Jack Marks garage Saturday evening with hordes of area adults and kids working their way through a maze of scary experiences, with lots of screams and cries for help.
It is not a visit for the weak of heart, with scary creatures and the dead rising from coffins.
The event has been created by the Jack Marks family and their friends for several years, often causing a traffic jam on Rt. 16.
At the end of the trip, daylight and a bag of treats.
Below is a sample of the spine tinglers (without audio)