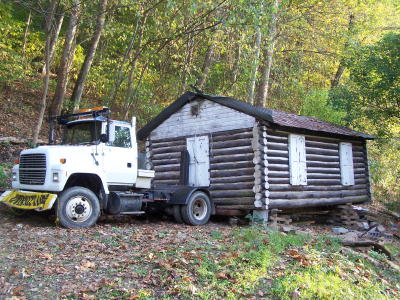 Eddy cabin at Big Bend prepared for up-river move to County Park
Cabin lands at park yesterday afternoon, joining a school,
a store, a post office, a blacksmith shop and another cabin
A sixth structure has been moved to Calhoun County Park's Heritage Village. "It's a cabin constructed by old Cabot employee Herb Eddy of Ritchie County," said Francis Cain, who donated the building to the village.
Cain says the cabin was built in the late 1930s or early 1940s and has reposed just above Rt. 5 near Big Bend all these years.
Many Calhoun old timers will remember the general site as the residence of Creed Brooks, famous for his wit and storytelling.
"Many people have lived in the cabin over the years," said Cain.
Jim Bell, who has been moving historical structures to the park, expressed appreciation to Cain for the donation.
Last week, the 125 year old Ahab Stemple cabin was moved to the park.
The village now has a store, post office, school, blacksmith shop and two log cabins.
Bell says he would like to find a church that could be moved to the village.