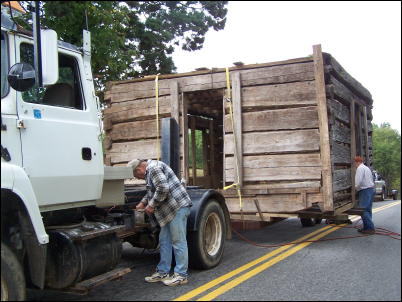 Cabin makes its way from Rowels Run to County Park
Jim Bell says "It came through some pretty tight places"
By Bob Weaver
The historic Ahab Stemple log house just off Rowels Run was moved yesterday to Calhoun Park's Heritage Village.
The cabin dates to about 1880.
Jim Bell and May Movers winched the bottom half of the cabin on a trailer and edged it up the narrow highway from Rowels Run, through Barnes Run to Mount Zion and on to the County Park.
"It got pretty tight sometimes," said Bell, who had already disassembled the second story and moved it to the park.
Bell said "The old cabin was in pretty good shape, a lot heavier than we thought."
Ahab Stemple moved to Calhoun in 1866 and had been living on Barnes Run when he moved his family to the cabin about 1895. It was likely built by the Riggs family.
The cabin was moved during the 1950s from its' Rowels Run site by Ahab's grandson Rufus Stemple to his farm a short distance off the main creek.
The structure was donated to the Heritage Park by Georgia Stemple Weaver and her daughter, Carolyn Stemple Kelley.
"We're grateful for its donation," said Bell, indicating it will be an appropriate addition to the Heritage Park.
Bell said he hopes to begin work on the cabin's restoration, the fifth structure placed in the village.
The village includes the Stevens one-room school from Pine Creek Hill, Grantsville; the Jarvis General Store from Oka, the Freed Post Office from Freed and Charley Starcher's Blacksmith Shop from Hur.
Bell said plans are to make further additions to the village.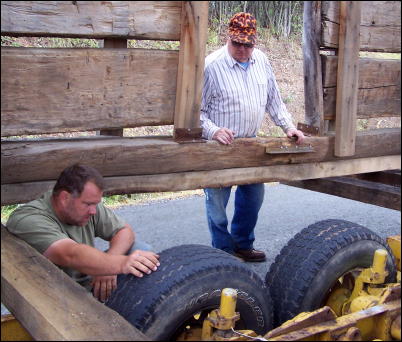 Cabin was much heavier then expected,
causing some concern with the trailer
Also see
Historic Stemple Cabin Being Moved To Heritage Village
Ahab Stemple Descendants Have Reunion