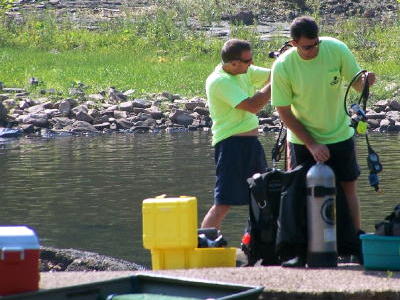 Inspection team gives Wells Lock and
Dam a serious look (Photos by Chris Ross)
The 19th century Wells Lock and Dam, the last of several such installations on the Little Kanawha River, is in serious disrepair, according to a recent inspection by a West Virginia Department of Environmental Protection's inspection dive team.
A recent inspection says the structure has suffered deterioration since a 2005 visit.
Wirt County Commissioner Robert Lowe said the team's preliminary findings indicate what county officials have feared for a long time.
"The dam is showing more signs of decay and erosion," Lowe said.
Lowe fears if the structure fails, there will be an adverse effect to the local water table, causing infrastructure problems for Elizabeth as well as erosion along the riverbanks with the loss of the holding pool behind the dam.
The lock and dam has always been favorite fishing and swimming spot, but now it is becoming a safety concern.
"The dive team took a lot of time and really documented what they found. They did detailed measurements of the leaks and cavities under the dam," said Lowe.
The commissioner is hopeful some funds can be obtained to repair the historical fixture.