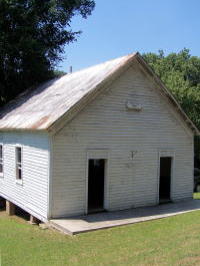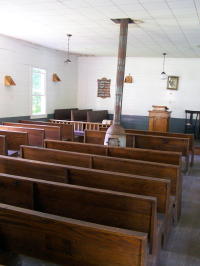 The Cedar Grove Church has long been closed, but once in a while, folks come back to light-up the church with its oil lamps and hold a service
In a time, long ago, they came from far and wide to attend the little church along the West Fork. Years have gone by since the church was "open."
The Cedar Grove Homecoming was held Sunday.
Mostly old-timers, return to remember their early Christian experiences with their parents in the country church, some actually walked across the river to attend services.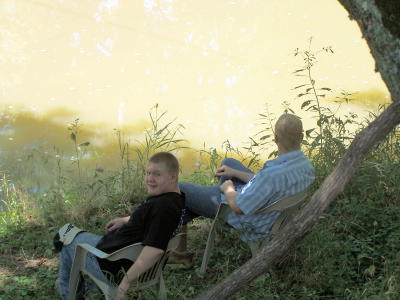 Resting on the bank of the West Fork, where a large
number of Roane County residents crossed the river to worship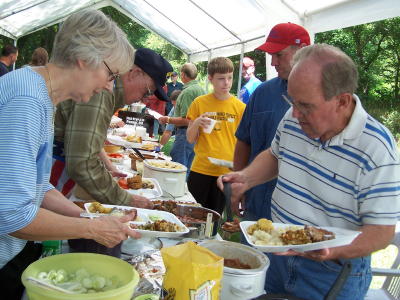 This weekend a few old-timers come back to
remember and enjoy a feast by the old church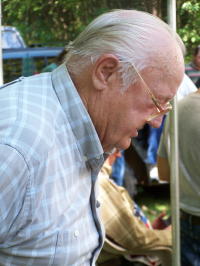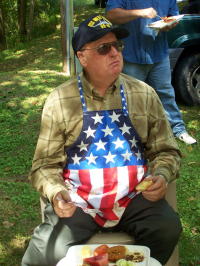 Boyd Duskey (left) giving the blessing, helps keep the homecoming
going, with Jim Bell (right) enjoying some of his own cooking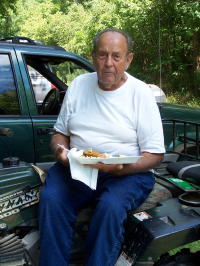 Enjoying food on a 4-wheeler (left) Lula Hughes
(right) 90 plus, a long-time visitor to the church