INTRODUCTION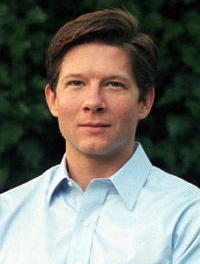 Jedediah Purdy was born and raised on a farm in Calhoun County, son of Walter and Deidre Purdy of Chloe.
His mother, a former Board of Education member and now a Charleston lawyer, led the fight against closing some of Calhoun's community schools.
As a young man, he spent his childhood exploring the woods and meadows and working the farm along with his parents and younger sister.
Mostly home schooled, he briefly attended Calhoun High School, later saying that few teens shared his interests in politics and justice.
He left West Virginia at age fourteen to attend Phillips Exeter Academy, attendeding Harvard University, graduating summa cum laude in 1997 with a degree in social studies. He now teaches at Duke University.
Purdy quickly became one of the country's exciting new authors. He has now published a second book and working on a third.
A SUPER-SCHOLAR, ALL GROWN UP AND STILL THEORIZING
By Claudia Deane
Washington Post Staff Writer
Monday, April 10, 2006
Washington, not unlike Hollywood, is a city prone to fussing over the latest bright young thing. The 26-year-old chief speechwriter. The 28-year-old at the helm of a major policy magazine. The home-schooled 24-year-old whose first book provokes a cultural maelstrom.
What happens to these wunderkinder when the fleet of flattering profiles has sailed past?
When we reached him, Jedediah Purdy, now 31, was in his office at Duke University's law school where he is an assistant professor, counseling a student in the throes of the seemingly inevitable "first year of law school crisis." In his mid-twenties, though, Purdy was one of Washington's intellectual darlings: ensconced at the New America Foundation -- a think tank that bills itself as featuring "exceptionally promising new voices" -- and named by Esquire magazine as one of the nation's "best and brightest."
Purdy attained the Eastern Seaboard thinking man's version of fame during his second year of law school (Yale) by publishing a plain-covered book, "For Common Things: Irony, Trust, and Commitment in America Today," in part decrying the modern commitment to irony. The book prompted a mile-high pyramid of publicity, at the top of which was an easy-to-mock photo of Purdy "contemplating a jar of tea" in the New York Times Magazine. Time magazine called him an "optimist in a jaded age." The critics fawned and raged, praised and patronized.
"For Common Things" got tagged in shorthand as the book that dissed Seinfeld. Result: ironic reference made to Purdy by Seinfeld on "Saturday Night Live."
"I guess I really consented to get my schooling in public," he said the other day with a laugh.
He thinks the question ("What ever happened to you?") and its insinuation that life after a youthful star turn on the Washington stage is one long, irrelevant purgatory is sort of funny. But he's an obliging guy, willing to reflect on what it's like to achieve intellectual notoriety with your first swing.
"It was a really, really interesting lesson in what the wish to be famous is about," Purdy said. Not that he expected the fame. "I think if you look at it, it doesn't look like a book you write because you want to get on the front page of things," he offered.
"The idea you have when you imagine celebrity is that a lot of people are going to know a lot about you and appreciate the things about you that you want them to appreciate. And it's like having a lot of really good friends."
"And what happens, of course, is that people know snatches and confused summaries about you, and they attach their own hang-ups or agendas to those, and you're this vehicle for other people's opportunistic sentiments . . . And that's almost the opposite," he said.
Then there's the challenge of getting complex ideas across in a bite-size media culture. "There was something about the way the book translated into short conversations, into sound bites, that did it a lot of violence. Not that everything about it was beautiful, perfect, poised, but it was not one of those books that was a 600,000-page version of a sentence."
"And so people come up to you and say, 'Are you Purdy? I also really hate our parents' generation,' " he said. "I spent a lot of time trying to explain I hadn't meant to say what it was people thought I was saying."
After his stint at the New America Foundation, Purdy decamped for the life legal, clerking for a federal appeals court judge in New York City and spending time on a fellowship at Harvard Law. He joined the Duke law faculty in 2004.
At Duke, he's all lit up about property law. What interests him about the topic, he says, is that it explores "how you deal with the fact that human beings are useful things for one another."
"The property system used to include owning other human beings. It still effectively does" deal with a market in humans, he says, mentioning sex trafficking and "highly exploitive labor relations." "People are always buying, selling, controlling one another," he said. The question: "What can you do to people? ... How far can you go in getting other people to do the stuff you want them to do for you?"
He's got a handful of articles forthcoming in prestigious journals, a contract with Yale University Press for a book on property theory and a research fellowship next year at Harvard.
In an e-mail, Duke Law School Dean Katharine Bartlett said Purdy is "wildly popular" as a teacher and added that she's "not aware of anyone who, in his first two years of teaching, has published as much work of such high quality and intellectual maturity as he has."
And lest you count him out of the public intellectual game, note that publisher Knopf has signed him for the third in what's become a trilogy of books on American political culture, which he plans to start working on later this year.
So, does his past as cultural wonder boy ever catch up with him?
"What happens now is my students Google me, as they inevitably do ... And they find that piece in McSweeney's." The reference is to a fictional piece in the offbeat literary journal that imagines Purdy hot-tubbing in the back of a Bellagio hotel stretch limo, cruising the Vegas Strip in the company of "Shannon and Marcie, both visions in amazing bikinis" while clutching a waterlogged copy of his book. "And they ask me whether it was true."
A lesser man would be tempted here. "I say no. And then I explain."