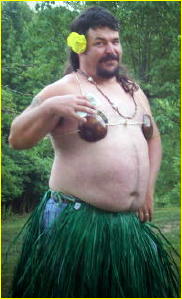 The 4th of July is pretty slow in Calhoun and folks don't always have time to get out and purchase fireworks.

On Tingler Mountain, Carl Brannon kept his word from last year, donning a dancing outfit provided by Don and Susan Wilson.

"Boy did he every model it," said Ed Tingler, with Carl providing the hula entertainment for the holiday get-together.

"He danced the evening away, with many laughs at his expense," said Ed.