E-Mail From Man Inside A WTC Office - "Son, this is dad, a plane has crashed into the building. I'll see you in heaven."
By Bob Weaver Sept. 14, 2002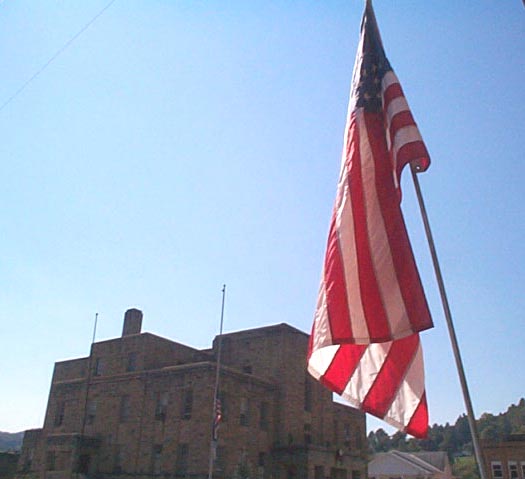 Calhoun Courthouse at dusk
A show of patriotism was spotted yesterday around Sunny Cal in Grantsville and up and down the country roads, particularly with the hanging of flags.
Wal-Mart sold tens of thousands of flags in the past 48 hours, and few are available in retail stores.
Unfortunately, in past years on official patriotic holidays, it has been rare to spot a flag except those displayed by die-hard patriots.
Local VFW Post Commander Paul Whytsell said "We hope people will become aware, one more time, what this great country is about. It stands as a beacon of freedom and justice."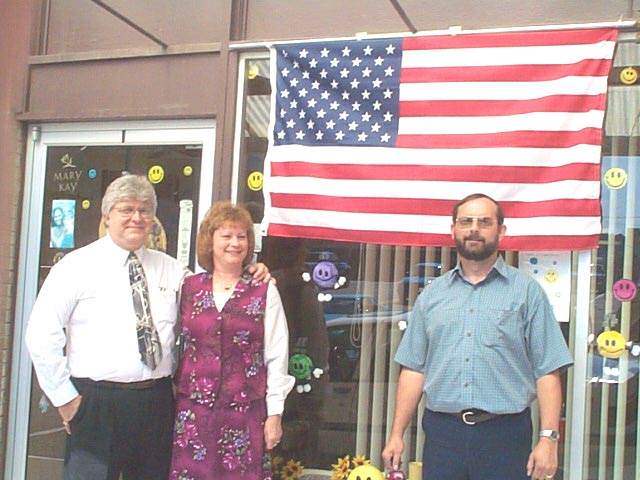 Grantsville attorney John Oshoway and family hang new flag Thursday
Whytsell, went on to remember the sacrifices of soldiers who have fought and died for the American Experiment, people from right here in Calhoun County.
Few families have not been touched, but it has been a while. Much has been sacrificed for the unspoken security we take for granted every day.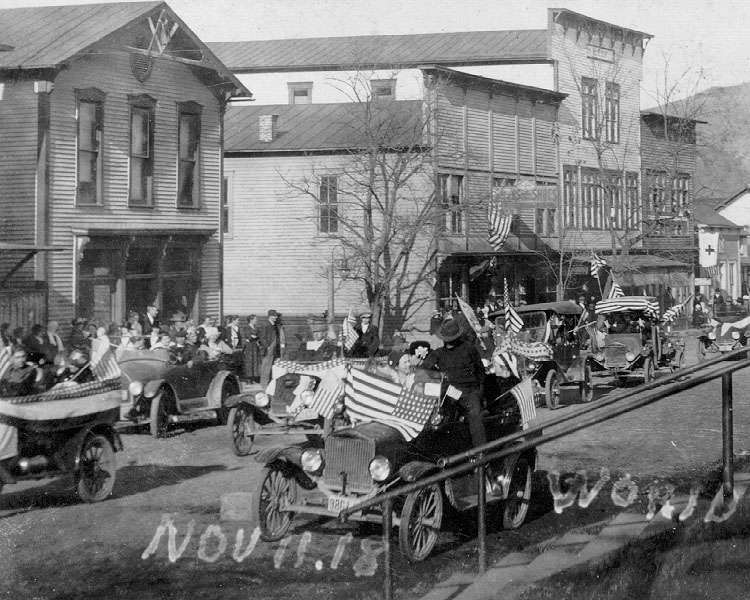 Nov. 11, 1918, WWI is over and Calhoun people come together
Photo courtesy of Calhoun Historical Society
He said he is hopeful that Calhoun residents will buy flags and hang them every day to remind all of us the value of life and freedom, and our willingness to protect our country from our enemies.
The local VFW post is expected to send its color guard to the county-wide prayer vigil this Sunday evening at the old Hamilton property beside the Calhoun County School Board office on High Street.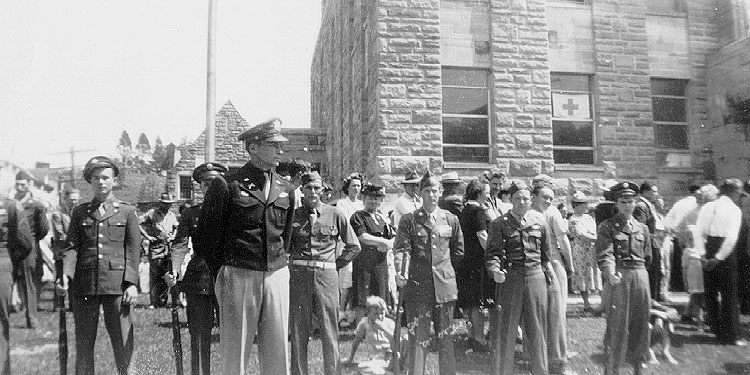 May 30, 1946, WWII is over and Calhouners celebrate on Memorial Day
Photo courtesy of Hatzel and Willa Sturm Stump
Calhoun veterans will come together on October 13 for the Second Annual VFW Vets Dinner at the Arnoldsburg Park.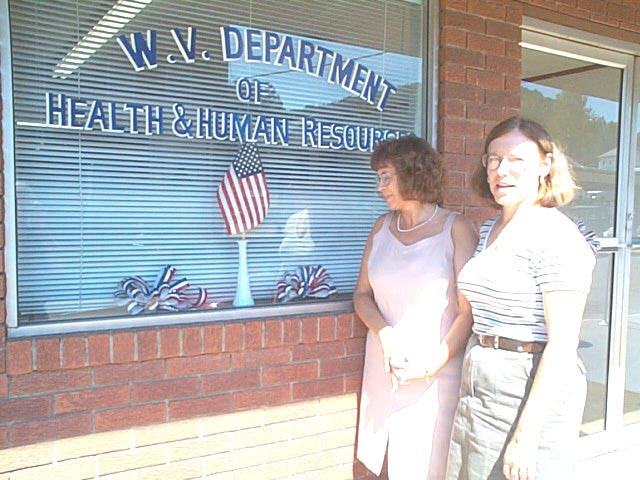 DHHR folks decorate window
Talking with a few dozen people on Tuesday, it was mentioned how most of us have used our 'quick forgetters,' and spent time convincing ourselves, or more particularly our children, that the atrocities of September 11 will never come to our shore.
Hospital administrator Barb Lay said "We have spent most of our lives making sure our children feel safe," wondering what thoughts are in their minds tonight.
All history says such things repeat themselves, and the meek rarely inherit the earth.
Terror and hate has come to our peaceful land, and the fearful question lurking in every mind - what comes next?