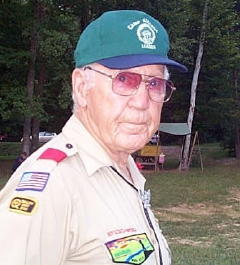 The Boy Scouts of America Allohak Council has long given the "Old Timer's Award" to recognize an individual who has been in scouting for at least twenty years. This year the council created a new award named in honor of Harold Wilson.
Wilson was commended by the council executive for being "one of The Little Kanawha District's greatest volunteers" and for "his direct influence for half a century to the youth of the Scouting movement not only within Calhoun County, West Virginia but within this great nation as well."
The Harold "Kitty" Wilson Award will be given in the future to any registered adult who has served fifty years in Scouting.
Wilson says, knowing the boys has been his biggest reward. He thanks the many people who have supported the troop over the years and is especially grateful to Richard Kerby, a main-stay of Troop 39 for twenty-nine years.
Randy Ball has assumed troop leadership while Wilson will continue as an assistant.
Boys interested in joining troop 39 may call Ball at 354-7914 or Wilson at 354-6308.