The family of the late William and Samilda Proudfoot Stump held their annual reunion on Sunday, Sept. 2nd at the Calhoun County Park Barn.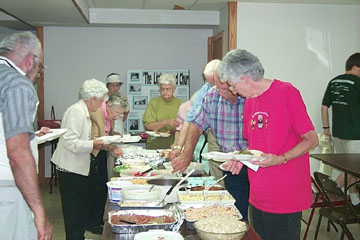 The Board is Spread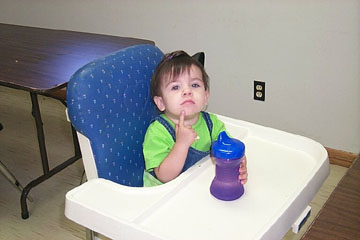 "Heh, wonder if they forgot about me."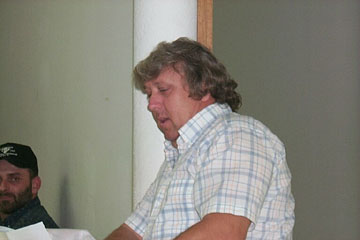 Mitch Stump Conducts White Elephant Auction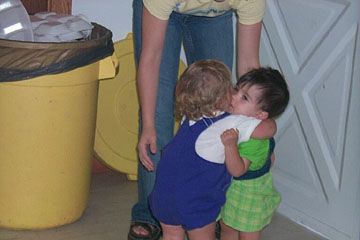 "Hi cuz, let's get acquainted."
An enjoyable day of visiting, photo taking, and renewing old acquaintances was enjoyed by all.  A covered dish dinner was served at 1:00 p.m.
Attending were:  Genieva and Haymond Conrad and Norma Knotts Shaffer of Grantsville; Augusta Riddle and Pauline Gainer of St. Marys; Mr. and Mrs. Leon Stump and Mr. and Mrs. Ron Stump of Beaver Falls, Pa; Mr. and Mrs. Mitchell Stump and children Kasey and Jonah of Ravenswood; Larry and Joyce Miller of Spencer; Mr. and Mrs. James Gilmore and Eva Knotts of Springfield, Ohio; Mr. and Mrs. Jeff Lewis and daughter, Elizabeth of Scott Depot; Helen Lou Wilson of Barberton, Ohio; Hazel Knotts of Stumptown; Roberta McKee and children, Kristina and Jerry of Romney; Zella and David Leitch of Hinckley, Ohio; Mr. and Mrs. Kevin Bailey of Harmony, N. Carolina; and Jim Knotts, of Mineral Wells.