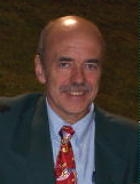 Calhoun County musician, Harry Beall of Grantsville, has been invited to join The Symphony of North Central West Virginia, in the orchestra's first concert April 15 in Clarksburg in the Byrd Theatre at Robert C. Byrd High School.

Beall was recruited by the orchestra upon various recommendations of area musicians who advised the orchestra's organizers on talent in the north central West Virginia region.

A violinist, Beall received his Bachelor of Arts from Glenville State College and is currently studying for a Masters in Education at Capella University. Since 2004, he has served as a music teacher at Calhoun County Middle-High School and Doddridge County Middle-High School.

We are very pleased to have Harry playing with us, said John Collins, Conductor and Music Director. The talent we've found in this region will make a wonderful contribution to our 86-member orchestra. My opinion is that area talent ranks with the national people we've employed.

Collins said that doing business under the temporary, generic name, The Symphony of North Central West Virginia, is a way of creating branding and sponsorship opportunities.

In Rochester, New York, their orchestra is known as the 'Eastman Rochester Symphony's explained Collins.Ü Rochester is where Kodak is located.Ü The Eastman family that owned Kodak endowed the orchestra with a large donation, so their family name will have ageless recognition in the community.Ü The same thing could happen here.

The newly organized orchestra will feature musicians from throughout a ten-county north central West Virginia region, who will play with symphony musicians from around the nation, according to a news release.

The orchestra's president said utilizing area talent is part of her organization's strategy to involve the entire region in an orchestra with continuing presence in the community.

Our area is well-served by symphony projects at the various colleges and universities, offered Judith Bookman, a Buckhannon resident, but not from an established, always working symphony organization.Ü We hope to become a complement and supplement to what is happening already.

Tickets to the event will be available by calling The Clarksburg Symphony Orchestra, Inc. offices at 622-3017. The tickets are priced for students and adults and can be picked up the day of the event. There are group and other ticketing plans available.