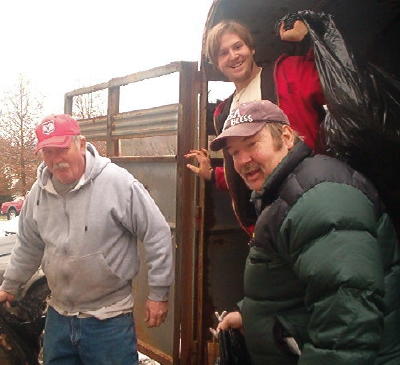 Wayne Snider (left) and Al Hogan (right), with Forest
Crabtree (on truck) delivering food, clothing, medical,
baby supplies and toys to the House of Worship in Elizabeth
Al Hogan of Munday has had his share of ups and downs over the years, while he has helped maintain a local ministry called Helping Hands, which reaches out to community people when they have special needs.
Hogan has also had a passion for mountain music, and has helped carry-on the tradition by providing a performance venue and recording studio hospitable to the area's new and old-time music makers.
A recent flood took out the bridge to Al's Barn, where local and regional folks gather for events.
Hogan said years ago he had his thyroid removed and radiation treatment. Parkersburg seemed to be the best place for follow-up treatment and getting his health back on track.
"The doctors would run blood work on me, and tell me everything is fine. At the same time, I thought I was going to die from all the pain," he said, "I couldn't drive, play music, hardly get out of bed, or do much of anything."
Dr. Clinton Mills, grandson of the area's famous mandolin picker, Clarence Mills, came to Al's house late one night, examined him and said he had Polymyalgia Rheumatica.
"I told my doctors in Parkersburg, but they disagreed with Dr. Mills, so I suffered with unbelievable pain for over a year. They would run a blood test, tell me everything is fine," Hogan said.
AL TELLS HIS STORY
"I was in tears. I begged them to help, but they just didn't really care. I would get letters and cards from churches, friends, and people I didn't even know, telling me that I was on their prayer list.
I gave up on living, because I thought, with all this pain, it must be time for me to go to my heavenly home. I really thought the end was near. That didn't really bother me, because I know where I'm going.
One night, I couldn't sleep due to all the pain. I told myself long ago, I would never go to Minnie Hamilton for treatment because the well-known professional doctors are in Parkersburg.
That morning I felt a push to go and see Dr. John Murphy at Minnie Hamilton Health Care Center, because I heard some pretty good things about him.
He checked me out really good and said that Dr. Mills was right. You are suffering from a very bad case of Polymyalgia Rheumatica. He did blood work and changed most all my medications.
He called me at my home and asked how I was doing, then adjusted the medication again. He was very concerned about five tumors that grew over the past year or so.
He sent me to see Dr. Desousa in Spencer to remove three of the tumors that was causing bad problems. Dr. Desousa was great. He sang Christmas songs while he did the surgery. I went from almost dead, to a touch of healing running through my head. All in less then 1 month.
I pray that all doctors and hospitals start caring more and do these kind of things for our children and our elderly."
Al gives credit for his recovery to "our blessed savior" and to Dr. Murphy, Dr. Desousa and Dr. Mills.
He concluded by thanking the healers - "I give a prayer of thanks to them all."
Donations to Helping Hands can be made to
Al Hogan
Director of Al's Barn &
Helping Hands Crisis Ministries
HC 68 Box 28 Munday, WV 26152