A GATHERING OF EAGLES - A Tribute To Kitty Wilson (Part One) (October 15, 2000)

It was a surprise tribute yesterday to Calhoun's longtime scoutmaster Kitty Wilson, whose scouting involvement has covered 44 years, 33 years as Scout Master of Troop #39. It was a gathering of Eagle Scouts, coming from far and wide to honor Wilson, who has given his human touch to scouting.

"Kitty has spent his time, his efforts, his talents and his money, helping our boys," said Jim Bennett. "What a tribute - 40 Eagle Scouts."

The group, seated on the lawn of the Calhoun County Park, heard tribute after tribute to Wilson. "He told his boys to go as far as they can," said Assistant Scout Leader Richard Kirby. "He is the most unselfish man I have ever known. He never mistreated any boy and he treated them all the same."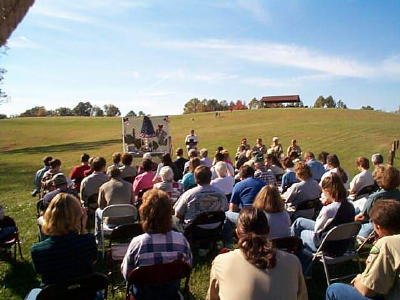 The Eagles return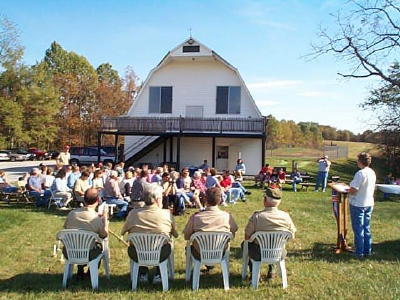 A tribute to Kitty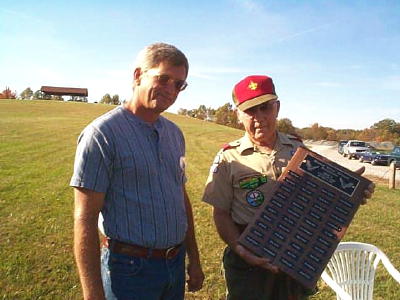 Troop #39 recognizes Wilson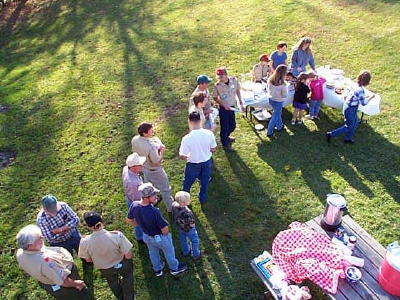 It was a lawn celebration at the County Park
A GATHERING OF EAGLES - A Tribute To Kitty Wilson (Part Two)
(October 16, 2000)
It is overwhelming to think of the commitment and perseverance Kitty Wilson has made to scouting in Calhoun County. Thirty-three years as a Scout Master, involved in scouting forty-four years. He was a little upset Saturday because his boys "should have taken a trip down the river," such beautiful weather. He took some time off to be honored at a special ceremony at the Calhoun County Park.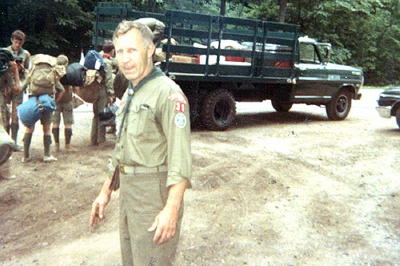 Kitty Wilson at Camp Kootaga - 1968
"Somebody up there has always been helping us," managing to escape serious injuries or problems. "I don't think a single boy got snake bit," said Wilson, who is still plugging ahead at 78.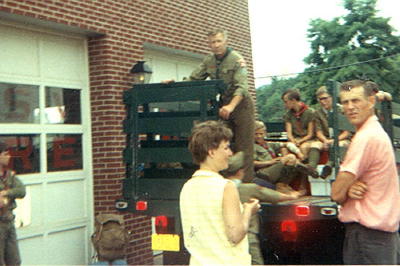 Loading the truck for Scout Camp - 1968
Hundreds and hundreds of kids, including Girl Scouts, have crossed his path. "I liked them all," he said. Forty of them have become Eagle Scouts, not an easy accomplishment. Many of them came to the park to honor him and others sent messages.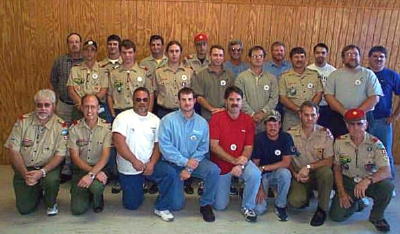 Eagle Scouts: (Front) Dave Curry, Jim Bennett, Donnie Nichols, Jeremy Malona, Bill Morris, Mark Stevens, Richard Kirby, Kitty Wilson (Second) Joey Curry, Matt Kirby, Chris Bennett, Mike Virden, Rob Johnson, Keith Smith, Bob Morris (Back) Steve Buck, David Smith, Jim Morris, Chris Butt, Mike Wilson, Jeff Taylor, Chris Cunningham, Joe Morris
His wife, Jeanne, son Mike and daughter Barb Lay, also received recognition at the ceremony, organized by Mrs. Jerry `Malona.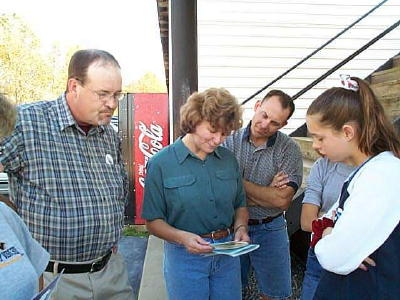 Barb Lay comes to honor her dad
Eagle Scouts from Troop #39: Brian Arthur, Big Bend; Chris Bennett, Grantsville; Stephen Buck, Williamstown; William Buck, Parkersburg; Christopher Butt, Grantsville; Fred Channel. Big Springs; Christopher Cunningham, Bancroft; Douglas Cunningham, Big Springs; Joseph Curry, Grantsville; Curtis Garretson, Grantsville; Jim Garretson, Grantsville; Michael Geiger, Ashland, KY; Earl Hamilton, Parkersburg; Randy Harris, Grantsville; Sandy Harris, Parkersburg; Zachary Hupp, Grantsville; Richard Jarvis, Grantsville; Robert K. Johnson, Arnoldsburg; Matthew Kirby, Mt. Zion; Sam Lynch, Mt. Zion; Jeremy S. Malona, Newark, OH; Eric McCartney, Grantsville; Travis McCartney, Grantsville; James Morris, Grantsville; Joseph Morris, Pittsburgh, PA; Robert Morris, S. Charleston; Scott Morris, Grantsville; William Morris, Bidwell, OH; Donald Nichols, Jr. Mt. Zion; Todd Rhodes, Hickory NC; Gary Siegrist, Creston; Ron Siegrist, N. Canton, OH; D. Keith Smith, Grantsville; Daniel Smith, Grantsville; Mark Stevens, Big Bend; Jerry Stump, Troutville, VA; Jeffery Taylor, Fairmont; Mike Virden, Chesapeake, VA; Mike Wilson, Grantsville; Mikie Wilson, Grantsville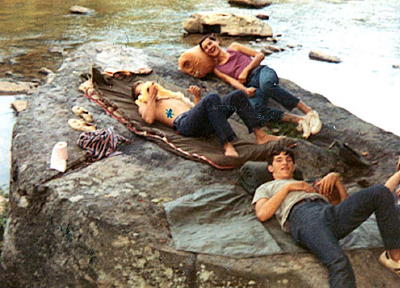 "Resting" - 1971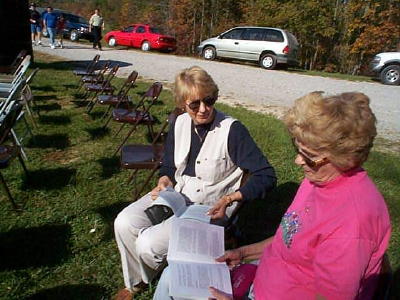 Wife Jean and Mrs. Duane Poling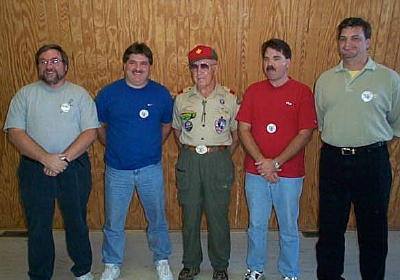 The Morris boys, all Eagles, with Kitty Wilson
(L to R) Bob, Joe, Kitty, Bill and Jim
A GATHERING OF EAGLES - A Tribute To Kitty Wilson (Part Three)
(October 17, 2000)
The Scout Oath: "On my honor I will do my best to do duty to God and my country and to obey Scout law; To help other people at all times; To keep myself physically strong, mentally awake and morally straight."
It has been Kitty Wilson's rewarding and awesome challenge to teaching Scout Law to hundreds of kids and spend thousands of hours doing the action that makes scouting a special program. It has kept Kitty Wilson alive and full steam ahead these many years. "It will be difficult to find another man to measure up to Kitty," said Richard Kirby at the special tribute held this past weekend.
The community took time to recognize and remember this man and his enormous contribution: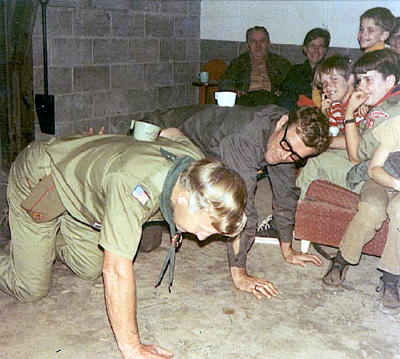 "Show You How" Kitty Wilson and Orvin Buck
perform a skit for Family Night at Bee Creek-1971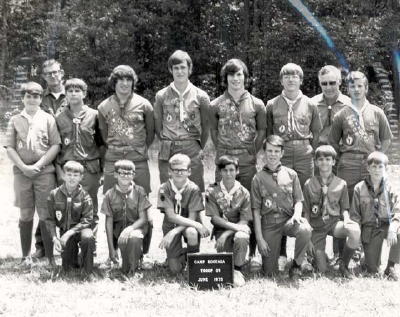 Troop 39 - 1973 Front row L to R: Mark Stevens, Russ Hupp, Doyle Hupp, Rick Jarvis, Jeff Frederick, Jim Morris, William Buck; Back row: Bill Morris, Allen Smith, Joe Morris, Steve Buck, Jim Garretson, Bob Morris, Donny Nichols; Third row: Leaders, Orvin Buck and Kitty Wilson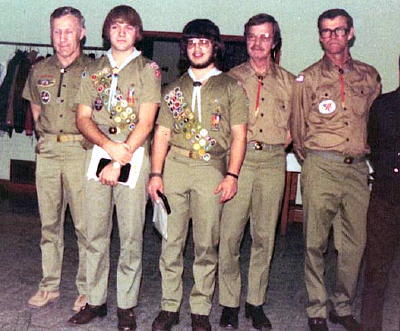 Eagle Scout Awards - 1976 L to R: Kitty Wilson, Bob Morris, Donny Nichols, Rev. Dwight Lowther, Orvin Buck, Doyle Hupp (cut off in photo)
A gathering of leaders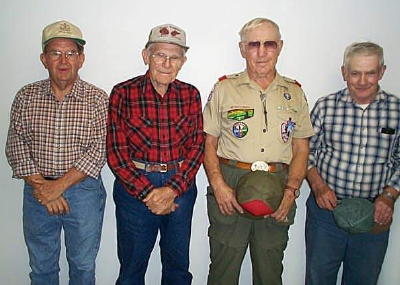 Scout leaders from days gone by
(L to R) Duane Poling, Forest Kirby,
Kitty Wilson and Duck Stevens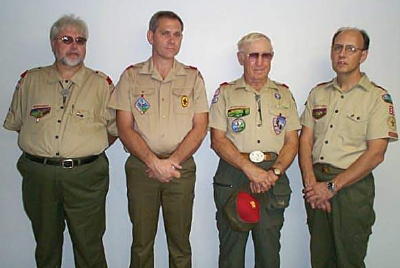 Current scout leaders (L to R) David Curry,
Richard Kirby, Kitty Wilson and Jim Bennett