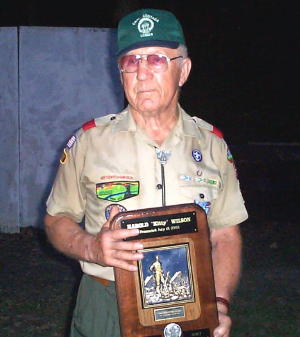 Harold "Kitty" Wilson - He has flown like an eagle,
devoting his life these past 50 years
By Bob Weaver
The first scouting troop in Calhoun was organized 75 years ago in 1931. During 50 years of those 75 years, Harold "Kitty" Wilson has been on-the-ground devoting much of his time to helping Calhoun boys, many who have become Eagle Scouts.
William F. "Rick" Cronk, current president of the Boy Scouts of America, has recognized Wilson for his 50-years of service to scouting.
"Your golden anniversary signifies a full half-century of contributions to help mold future adults," said Cronk. "We are fortunate to number you among your associates in this great movement."
"Thank you for sharing your life with so many young people," Cronk said.
The links will lead to stories and photos of Wilson's scouting life these past 50 years:
His dedication and perseverance to helping others may be unmatched by any Calhouner, past or present.
FORTY-FIVE YEARS OF SCOUTING - Wilson Honored At Camp Kootaga
LAZY SPRING FLOAT DOWN THE L-K