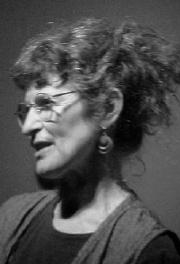 Calhoun's Jude Binder has received recent recognition for her contributions to the arts.

Binder has received the Secretary's Star Award from Kay Goodwin, the cabinet secretary of the WV Department of Education and the Arts.

The award was presented to Binder for her contribution to arts and education, during last weeks premiere of Heartwood's film "Field of Flowers" in Charleston.

Binder moved to Calhoun County in 1973 with the intention of establishing a school for the arts in the heart of the country.

She wanted to provide an under-served rural population with an environment for learning, healing, personal growth and community building.

In 1982, Binder and co-founder Frank Venezia built Heartwood in the Hills' first structure and the school has been growing ever since.

Heartwood provides children and adults, ages five through 75, with the opportunities and resources to develop cognitive and creative skills, self-confidence, and self-expression through the arts.

Binder serves as artistic director and teaches many of the classes.

Binder has been teaching classes in classical ballet technique since 1958 when she was 16 years old. She attended the Washington School of Ballet, Washington, D.C.; John Hines School of Afro-Cuban Dance, Philadelphia, Pa.; School of American Ballet, New York, N.Y.; Austin Ballet Theatre School, Austin, Texas; and School for Movement Theatre, Elkins, W.Va.; and Philadelphia, Pa. among others.

In 1954, Binder began taking watercolor and drawing classes at the Corcoran Gallery of Art in Washington, D.C. Later, she enrolled as a full-time student at the Pennsylvania Academy of Fine Arts in Philadelphia, majoring in painting and printmaking.

In 1975 Binder began to carve wood. She says, "Figure in wood intrigues and entices me. There's so much movement. I love to follow along."

Theater has also played a big part in Binder's life. She says, "I began staging plays as soon as I was old enough to start bossing people around."

She studied mask-making with Paule Stein at the School for Movement Theatre and learned to make masks out of tarlatan, a thin, stiff muslin fabric, and has been using it since 1984.

Binder's wood carvings have received a number of awards including a Merit Award and a Governor's Award in the West Virginia Juried Exhibition at the Cultural Center and a Juror's Award in the Crosscurrents 1982 exhibit in wood carving at the Stifel Fine Arts Center.

In addition, she received a Media Grant from the West Virginia Humanities Council for the theater project "Broken Bough," and received the Outstanding Contribution to Theater in West Virginia Award from the West Virginia Theatre Conference.

She also was the recipient of the 1996 annual "Celebrate Women Award" in art from the West Virginia Women's Commission.

Heartwood's December Celebration, presented for the community is scheduled for two nights, December 8-9 at 7 p.m. Free to the public.