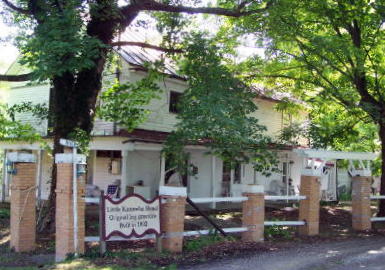 The oldest building in Elizabeth and likely one of the oldest buildings along the Little Kanawha River, will be open for tours on Pioneer Days.
The Little Kanawha Hotel is one of the regions most historical structures, representing river life of days gone by.
The three story log building was built in 1800 by Manlove Beauchamp for his cabin. In 1870 P. H. Dailey covered it with clapboard siding, divided it into rooms and remodeled it into a hotel and center of commerce for Wirt County.
From 1875-1883, the Kanawha Hotel was owned and operated by Mary Jane Bee, Winnie Murray's great grandmother. Mary Jane Bee was the wife of Josiah Bee, a Confederate Soldier that is buried in Beauchamp Cemetery.
Winnie, now passed, said "I love to tell the story of the Little Kanawha Hotel and how it was a divided house (union and confederate) that now stands proud.
"In 1862, West Virginia gave Lincoln what was needed in stopping the South from leaving the Union and kept the United States together," she said.
Anyone with an interest in history should visit the hotel, listen to the story of the divided house, and enjoy one of the remaining historical buildings in Wirt County.
The hotel is located behind the Court House in Elizabeth, WV.