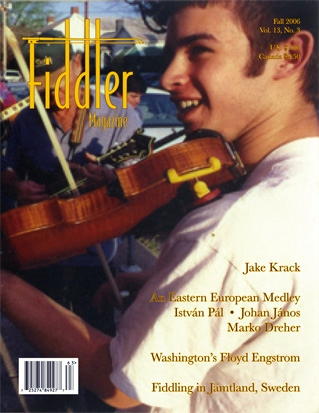 During the past few weeks well-known Calhoun musician Jake Krack has been racking up more fiddlin' honors, adding to the dozens he has already received.
He just won first place in the Old-Time Fiddle Contest and first place in the Old-Time Band Contest at the 2006 Appalachian String Band Festival at Clifftop WV.
He also won first place this year at the 71st 2006 Old-Time Fiddler's Convention in Galax VA, plus a "Performer of the Festival" trophy.
Jake competed with hundreds of fiddlers in these events and nearly one hundred old-time bands across the country.
Jake's mother, Dara, backed Jake with her guitar in the fiddle contests, and played with the award-winning band at Galax.
The fiddle Jake used this year was made by his dad, Reed Krack.
Jake is featured (including the cover photo) in the fall issue of the international Fiddlers Magazine www.fiddle.com
He has been attending Berea College since graduating from Calhoun County High School.
Read more about Jake at www.jakekrack.com