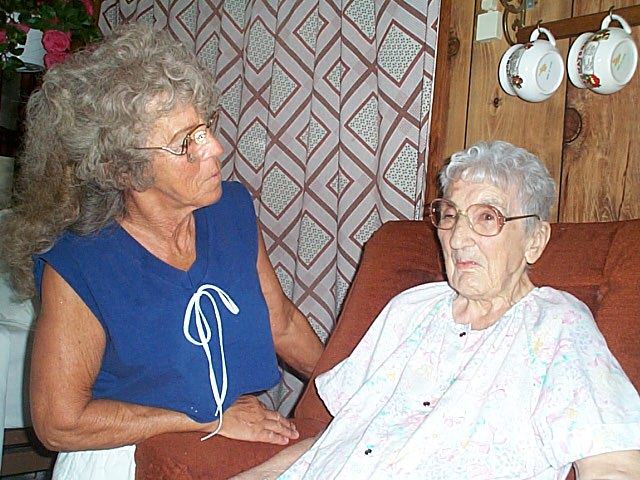 "Boots" talks with her mom
Big Springs resident Della Moorehead Dawson will be 100, and a big open house celebration is planned for August 11 (Saturday) at her daughter's residence. "Boots" Richards said the celebration is being given by family and friends, with an open house planned between 2-5 p.m. at Klepstine Road and Route 16.
"Mom was a devout Republican and always worked the election board. She worked out in the cornfields and rode horses," said daughter Boots, "A really hard worker." She has lived with Boots for the past several years.
Della, daughter of the late George and Jerusha Adams Moorehead of Big Bend, is the last surviving member of her immediate family. Her husband Cecil H. Dawson, an oil and gas field worker, died in 1983.
She has four surviving sons, Jack Dawson of Grantsville, Donald Dawson of Cleveland, Larry Dawson of of Grantsville and Lanny Dawson of Millstone. Son Gene Dawson is deceased.
Daughters helping her celebrate her 100th birthday, Georgia Smith of Cleveland and Delores "Boots" Richards of Big Bend. Daughter Sally Whipkey, known for her involvement with the Grantsville Hotel, is deceased.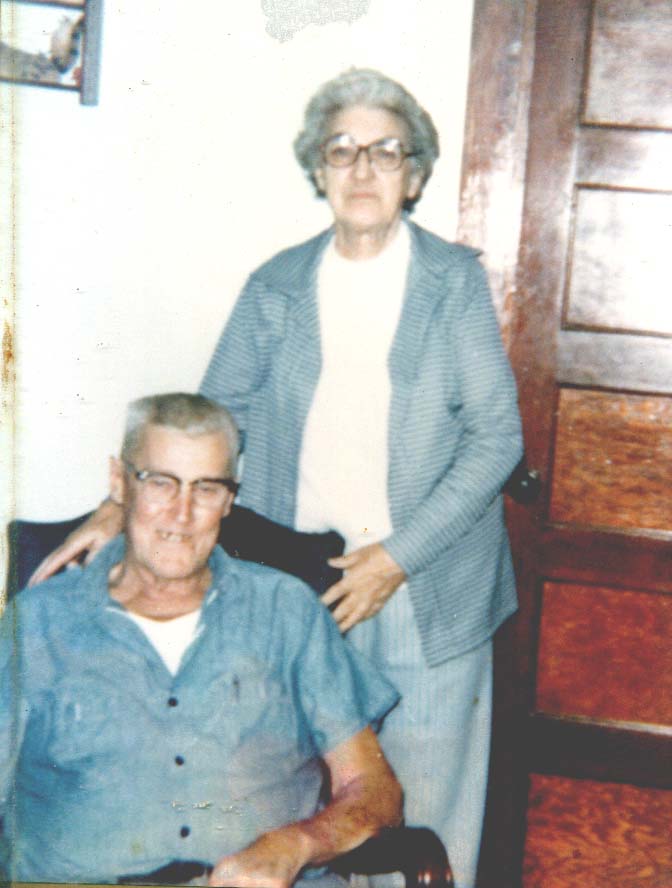 Della Moorehead Dawson and her late husband, Cecil H. Dawson
Della was preceded in death by two sisters, Viola Moorehead Deems in 1956, and a infant sister, Sarah. She also had five brothers, George and Thomas Moorehead who died in 1975, in addition to brothers who died around 1901.
Boots is planning a big event. "I really hope folks will stop by. No gifts."
Boots is a retired mail carrier with 44 years of service. "I had a "hand-carried" route out of Grantsville that went to nine or ten post offices, a 60-mile loop." She loved the work. "I would often get groceries and medicine for people who couldn't get out," she said.
"This day we will honor my mom," she concluded.