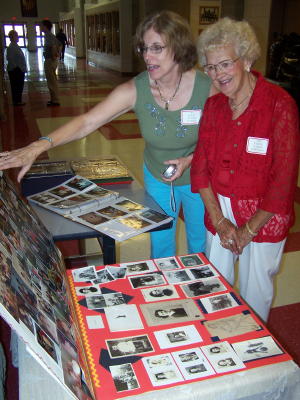 Ila Grey's daughter Terri Harris (L) and her mother's
long-time friend Jackie Robinson (R) look at memorabilia
2006 - As the 25th Calhoun High Alumni event is approaching, we remember the stalwart efforts of the late Ila Grey Snider to help originate and keep the gathering alive.
An Alumni Day tribute was givem Ila Grey was given by granddaughter Casey Harris (Hill) in honor of Ila Grey Snider last weekend. Snider passed just before the 19th annual event. She was the "shaker and mover" who started the event, described as "the shining star who kept it going with her friends."
THE TRIBUTE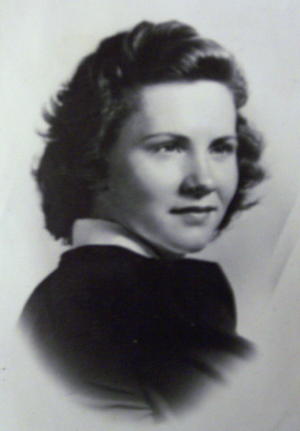 Ila Grey Snider
I don't remember a time when Calhoun County High School didn't have an Alumni Day. And I also don't recall a time when I didn't know that my Gramma Ila was always working toward this day every year.
Of course Alumni Day is meaningful to all of you in many different ways. For most, it is a coming together of friends and family, possibly some who haven't been seen for years.
For me, a fresh six years out of high school, Alumni Day has come to have a different dynamic in my life. It is important to me because my Grandmother, Ila Grey Snider, loved coming to Alumni Day, and was one of the people who made it possible all those years ago.
But not until recently, when I lost her, did I begin to realize what bringing this day together meant to her, to those who attended in the past, and all of you here today.
When I was a little girl, I was naive to the significant meaning Alumni Day had for all the graduates of Calhoun High. I saw only the material objects used to carry off this day.
Throughout the year my Gramma was sent a great deal of mail. It always excited her to receive new cards and letters sent from people wishing to attend.
Next in her process would come the big shoe boxes full of cards setting in the corner of the dining room. She would then sit at the table and file away all the important information that she had received.
My Gramma's house was always full of envelopes, cards, letters, programs, stamps and napkins - all for Alumni Day.
Then every summer we would have to dig into the attic and carry down American flags, the Class Year cards for the tables, and last but not least, the beautiful, fake, red & white carnations that used to adorn the tables. My Mom allows she doesn't miss the fake carnations.
I must admit the most exciting thing about Alumni Day back then, was when the helium tank arrived and all the balloons could be filled. (This is actually my first full Alumni Day I have ever attended), but when I was younger I would always tear myself away from the pool long enough to walk over to the high school in time to see the balloons fly. And then I was always eager to see if someone would find one and return a letter.
Over the last five or six years during my Gramma's illness, Alumni Day was most important to me because it gave her something to keep her mind sharp and something for her to look forward to.
You people who attend this day meant so much to her. She never gave up on living and her being the president of your association, helped to keep her young at heart.
There was nothing that would lighten her up more than seeing all the graduates joined together on Alumni Day. She so enjoyed the stories of first time attendees having a blast and being eager to return the next year.
When asked a few months ago by my co-worker, Jane Morris Carpenter, Class of 1968, how long my Gramma would be able to be president of the association, I replied "with the gracious help of Emily Gainer, probably until the day she dies."
I hope it warms your heart to know that up until the end, my Mom read her the most recent arrival of Alumni responses. She commented on their names, the connection they had with other people and previous Alumni Days they had attended.
In honor of my Gramma's love for Alumni Day and my deep love for her, I would like to do the best I can to recruit more of my friends and recent graduates to come share in the joy of the common bond we share.
We are all graduates of the same fine high school and it is special that we are given this day each year to celebrate it.
On behalf of myself, my family and the entire Alumni Association, living or those who have passed on, I want to thank my Gramma Ila for all she did for us.
I hope her love and dedication for this day will continue to live on for all Alumni Days to come.
Casey Harris Hill (Class of 2000) is now
working on a masters degree at WVU.