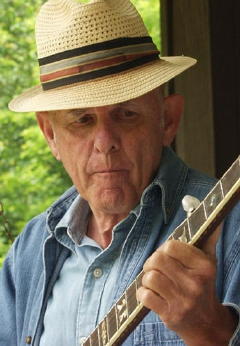 Mack Samples
(Photo by Alan Freeman)
By Drew Moody
For the Hur Herald
drewmoody@verizon.net
Mack Samples is about as famous as a humble West Virginian can get. He's done a lot of livin,' and stayed true to himself in the process.
He's an accomplished professional musician, playing both fiddle and banjo. Mack is also a member of a very small fraternity of successful West Virginia authors. He's also a former teacher, college administrator, and county extension agent.
While others may be left to mull the scope of significant contributions he's made to West Virginia, and search for appropriate labels to characterize and quantify it, Mack's attitude seems to be - let the chips fall where they may - "I'm just having a good time." He's serious, but doesn't take himself too seriously.
"For what years I have left, I'm going to do what I enjoy," he said. Mack's thankful to be retired because, as he put it, "the job got in the way of running around playing music."
Life is good. And the pulse of it has been centered around music and dance - particularly square dancing, but when the opportunity arises - ballroom dancing as well.
Mack sat down recently for an interview at his Clay County Farm, a haven for "bad fiddlers," or so claims the sign at the entrance to his property deep in the Clay County hills near Duck, WV.
A large well-tended garden sits lonely in an expansive field, surrounded by mature trees. The closest neighbor bordering his 55-acre paradise is several hundred yards away and out of sight. His visiting granddaughter plays inside, entertained by his life and dance partner, Thelma.
Mack is looking forward to his next gig - performing with the Samples Brothers at the West Virginia State Folk Festival, which begins in Glenville Thursday. He fronts the band, usually playing guitar and handling the vocals. The group is comprised of brothers Ted and Roger Samples, along with Buddy Griffin and John Preston.
"We do bluegrass, the way it used to be played," Mack says. And what they do best are hard-driving fiddle tunes. They also play 'country standards' from the 1930s and 40s. The Samples Brothers band has sold more than 10,000 CDs over the years, and there's talk of producing a new one soon.
"I like the fiddle better than anything," Mack says, "and I play it worse than anything else." Perhaps he's too hard on himself, as some would say band mate Buddy Griffin's fiddle playing could make almost anyone feel musically crippled.
He has been reprieved on the banjo, recently winning the senior's division banjo picking contest at the annual Vandalia Gathering in Charleston. He's won awards for his fiddle playing as well.
A former Folk Festival president for 20 years, his association with the event stretches back to the early 1960s soon after he became a student at Glenville State College. Longtime festival president, the late Fern Rollyson, heard about Mack's guitar playing at the college's coffee shop and persuaded him to become involved.
"I don't like to be sentimental, but the Folk Festival has been a big part of my life." He considers the festival a reunion of musicians, and says it continues to attract players from all over the U.S. Many long-time Glenville residents and Glenville State College graduates celebrate the festival as a quasi-reunion as well.
In addition to playing music, Mack will also be featured as one of the downtown square dance callers during the festival. Two Glenville 'callers' taught him the art - Tommy Luzader, and the late Willie Reed, a former Gilmer County schools teacher.
From birth, music has been a constant friend and companion of Mack's. His parents were musicians, as well as several relatives and family friends in and around rural Clay County. Mack recalls his father sitting on the porch after work, playing banjo. "People would just stop by and play," he remembers.
By age 16 Mack worked the local music circuit in a Clendenin square dance band. He watched a music revolution ushered in my the likes of Chuck Barry, Jerry Lee Lewis, and Elvis Presley. "Rock & Roll put me right out of a job," he recalls. "People got so they didn't want to square dance anymore."
After a 4-year stint in the U.S. Navy, Mack earned a teaching degree from Glenville State College, and later a master's degree at Ohio University in Athens. He taught a few years before becoming a college administrator, eventually accepting the position of registrar at Glenville State College. In 1999 he retired as a West Virginia University extension and agricultural agent.
He has written several books including: Elk River Ghosts, The Devil's Tea Tables, Doodle Bug Doodle Bug Your House is On Fire, Dust on the Fiddle, and Hippies and Holiness.
Elk River Ghosts is in its third printing and The Devil's Tea Tables has sold more than 4,000 copies. Some of Mack's works are available on the website "mountainmade.com".
Mack will be attending and performing at Gassaway Days over the 4th of July, a Tamarak concert, near Beckley, is scheduled in late July, the Appalachian String Band Festival in Fayette County in August, and the Stonewall Jackson Jubilee over Labor Day weekend.
He has a new book coming out soon, titled, High Times in Corton - A History of Corton and Corwall Station. He doesn't believe it'll be as big a seller as several of his other novels. But it was a labor of love, since it's a history of his childhood home.
West Virginia Public Television is currently producing a segment about Mack's life, which will air sometime this fall.
Thanks Mack - Well Done!