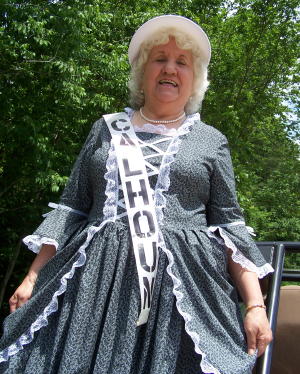 Seventy-year-old Grantsville resident Evelyn McCormick, 70, is Calhoun's Belle for 2006.
McCormick will be representing the county at the West Virginia Folk Festival this weekend, attending special events and appearing in the festival parade. She will also participate in a special church service Sunday morning at Job's Temple.
She is a 43-year-member of the Pleasant Hill CEOs.
Evelyn will wear a handmade pioneer style dress (shown above) made by her sister Eva Collins and herself.
Married to Jim McCormick, they have two sons, Dwayne and wife Betsy and Douglas McCormick, all of Grantsville.
They have two foster sons, Jerry and Betty Jones of Chloe and Willie Jones of Grantsville, plus seven grandchildren.
Over the years, the McCormicks' have cared for at least 18 foster children.
They attend Pleasant Hill UM Church.