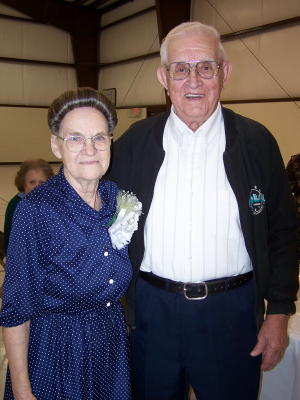 Denver and Pauline have shared 60 years together
Denver and Pauline Garretson celebrated their 60th wedding anniversary Saturday, an event held at the Family Life Center of the Brooksville Baptist Church.
"It's been a good life for the both of us," said Denver, he and Pauline enjoyed visiting with their friends, sharing a meal and cutting the anniversary cake.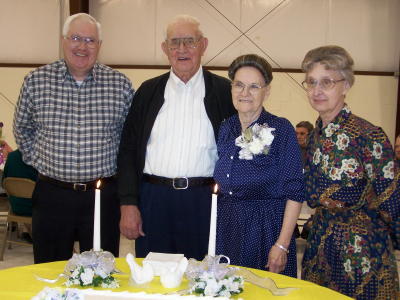 The anniversary couple with their daughter and son-in-law
from Johnson City TN (Left to Right) Don Cooper,
Denver and Pauline and Patty Garretson Cooper
They were married in 1946 after Denver returned from World War II. "I wrote to her about every day when I was over in North Africa, Sicily and Italy and she wrote back," he said.
Denver was born up a holler from Cremo in 1919, the son of the late Robert and Mabel Dawson Garretson, with seven brothers and a sister "trying to make it on the farm."
Pauline was born in 1927, the daughter of the late Roy and Zela Morrison Cunningham. She was the only girl in her family, with four brothers.
Read More Plowin', Diggin' And Plantin' For 59 Years, "God Has Blessed Our Marriage"