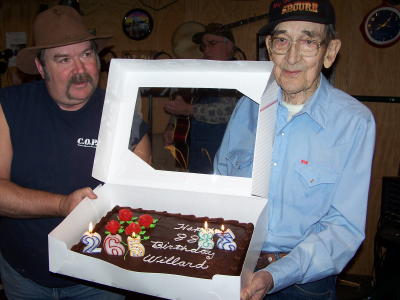 "Big Al Hogan" presents Willard Jones with one of his 88th
birthday cakes, with lots of confusing candle numbers on top,
to which Willard said "At my age it's pot luck anyway"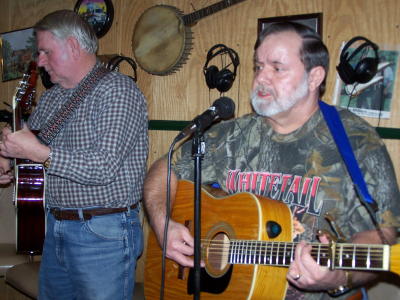 The evening was spent hearing tunes from lots of Willard's friends ...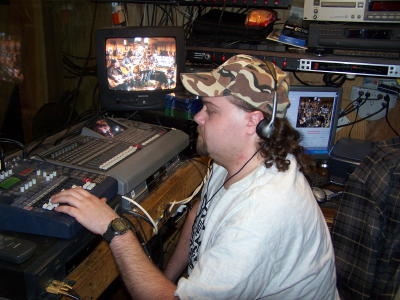 ... which have been recorded on a DVD available from "Big Al"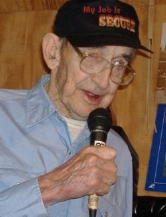 "The life I love is makin' music with my friends," could be a line repeated by Calhouner Willard Jones (left) who celebrated his 88th birthday at Al's Barn in downtown Munday last Friday. (Photo courtesy of Esther Wilson)
Besides being an honored guest, Willard took to the microphone one more time to sing some of his old favorites.
The permanent Mayor of Five Forks, who also serves as the Hur Herald's weather prognosticator, is among the county's favorite old-time music makers.
"Gettin' old means who get to eat a lot of birthday cake," he said.
Al Hogan has dutifully been using his recording studio to record some of Calhoun's best mountain music makers, which he will be making available on DVDs.
"The Barn" has been a place where people come to celebrate their talents and faith and reach out to community members with the "Helping Hands" ministry.
Hogan, the longtime giver, had to get on the receiving end these past two years with some health problems. He is back in action.
A FEW OF THE FRIENDS AT FRIDAY'S BASH