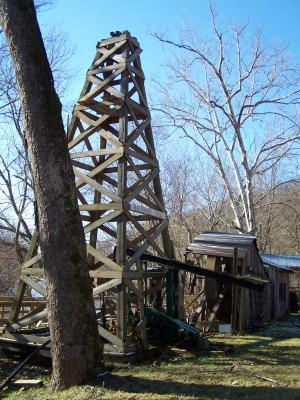 Where it all began - Rathbone Well at
Burning Springs, drilled with a spring pole in 1859
By Bob Weaver 2006
Hur Herald Photos
David McKain, founder and curator of the WV Oil and Gas Museum in Parkersburg, often laments over how little recognition is given the beginnings of the oil and gas industry right here in the Little Kanawha River region.
He has been on a mission for many years to give the area's history its' due, including the publishing of a large book "Where It All Began."
Now, McKain has announced plans to create a Civil War heritage district which encompasses the oil and gas history of the region. Each site will have its' own park.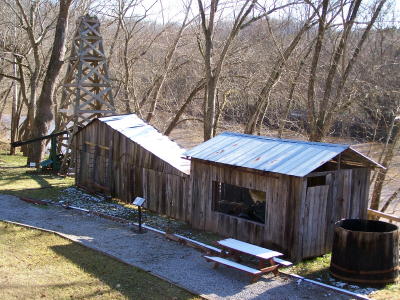 Rathbone well and park is open to the public,
along Rt. 5 at Burning Springs, east of Elizabeth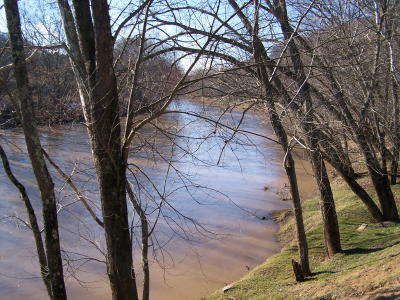 FIRE ON THE WATER - In the nearby Little Kanawha River, Confederate troops dumped about 300,000 barrels of oil, set it on fire,
flames and burning oil went downstream to Parkersburg
The proposed district has a Calhoun connection, a Big Bend Civil War site.
McKain says the Big Bend site was an historic Moccasin Rangers guerrilla and regular troops camp along the Little Kanawha, a gathering place for marauding rangers throughout the region.
"In hundreds of hours of research, Big Bend popped-up hundreds of times," Mckain said, saying it was a meeting place and crossroad for activities throughout the region.
The Big bend site will include an access road, signage and shelters.
The oldest producing well in the world is the Rathbone Well at Burning Springs from 1849, now a historical park site along Rt. 5, an extension of the Parkersburg museum.
Burning Springs, once having a population of 3,000, was the oldest oilfield boomtown in the world, and is a Civil War site, with its own fort (Fort Hill) to protect the oilfield.
Here there were skirmishes with Confederate guerrillas throughout the war, and it was the first oilfield attacked and burned in wartime.
The Little Kanawha River is linked to Burning Springs and its' historical Locks and Dams that were built by a private corporation, rather then the Corps of Engineers.
The private corporation was financed by the oilmen to get oil from Burning Springs to Parkersburg.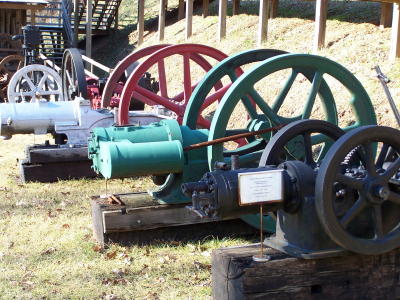 Bessemer engines and other equipment on display at the park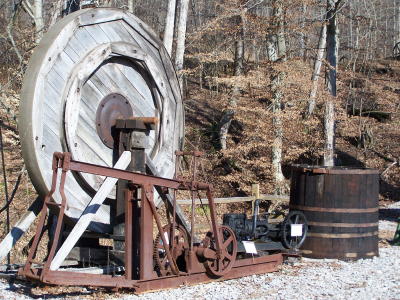 Ten foot band wheel used along the Little
Kanawha to pump several wells, circa 1920s.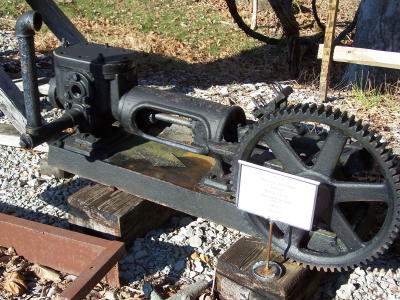 Oil pump used in Volcano field about 1910
The Big Bend rebel camp is likely near the Peter Saurborn farm along the Little Kanawha, where Saurborn was a principal in Calhoun's famous Moccasin Rangers.
Saurborn operated a tannery, was a deputy sheriff and postmaster at Big Bend prior to the Civil War. His houses and buildings, were destroyed by fire and he was later beheaded at the mouth of Sinking Springs on the West Fork near Altizer.
McKain said after all these years, "I'm excited about the history of our region," recalling his recent visit to the Ritchie Mines.
"The early oil and gas history is more often than not connected to Civil War activities," he said.
Visit McKain's Oil & Gas Museum oilandgasmuseum