By Bob Weaver 2006

A memorial service was held yesterday at WV Wesleyan College in Buckhannon for the 12 miners who died in the Sago Mine disaster. It was a day dedicated to honor, hope and healing.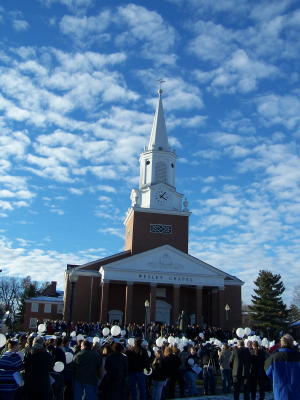 Thomas P. Anderson, 39, Rock Cave
Alva Martin Bennett, 51, Buckhannon
Jim Bennett, 61, Philippi
Jerry Groves, 56, Cleveland, WV
George Hamner Jr., 54, Glady Fork
Terry Helms, 50, Newburg
Jesse L. Jones, 44, Pickens
David Lewis, 28, Philippi
Martin Toler, 51, Flatwoods
Fred Ware Jr., 58, Tallmansville
Jack Weaver, 51, Philippi
Marshall Winans, 50, Talbott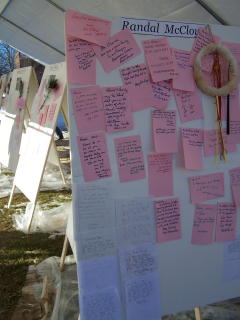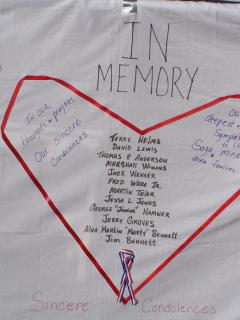 Handwritten messages, some from children, were left Sunday on individual easels erected for a memorial service for the 12 coal miners who died and the lone survivor at the Sago Mine explosion:
"Jerry, enjoy heaven 'til we get there."
"God definitely has 12 more angels. God bless you all."
"Dear families, ... I like puppies. Sometimes pets can help you get through a hard time. I am very sorry you lost your loved ones, but they will always be in your hearts. p.s. Pray every day."
"Anderson family, thanks for letting us be a part of Tom's life."
"Anderson family, my thoughts and prayers are with you. God bless you in your time of sorrow."
"Dear families, I am sorry about what happened. They will always be in your hearts. I go to Hometown Elementary. If you have any kids, tell them it will be OK. I bet you and your family are really wonderful. I will keep you in my mind."
"Dear families, The people who died will be in your hearts and looking over you wherever you go because they're up in heaven. I've prayed that your family members would get out of the mine and come home to see you. I'm so sorry that they didn't get out safely."
"Fred, you will always be in our hearts. We love and miss you."
"Fred, you are the same quiet smiling father-grandfather that we knew as classmates-neighbor. We will continue to hold family in prayer."
"To Fred, you are always so friendly and smiling. A classmate of mine through grade school and beyond. I will miss you."
"Dear Jones family, our prayers are with all of you. Jesse is one of God's angels now. We can only look forward to the day we will see him again in heaven."
"Dear families, Hi. My name is Josey. Last December my papa died. I know how you feel. I know how bad you just want to cry. You have good memories of your loved one. Just remember them and how much they loved you. I know it's hard but you can get through it. They were brave going in that coal mine and I'm sure they would want you to be brave. I heard about the mine falling on the news and I know God was there drying your tears. I hope you feel better soon."
"Randal and family, may the Lord hold you in the palm of his hands today, tomorrow, always. God bless."
"Dear Randal McCloy, I am glad you made it. How did you make it? I hope that you get over your injuries. I am in fifth grade. I am 11 years old. I am from Hometown. I hope you get better. Good luck."
"Dear Randall McCloy, I am very happy that you are alive. I was watching the news and y'all was under there for a long time. Was you friends with the other coal miners that died? If so, I am very sorry. Was you scared under there? I would be. I hope you are OK. When y'all were under there, I watched the news every day to see if y'all got out and was OK. But I guess you was the lucky one."
"Words cannot express what I feel ..."
"Prayers and blessings in Jesus' name."
"Jim, you will always be my heart, and John and Lil. I will always remember you all. God bless you."
"Dear families, My name is Colter. I am sorry that one of your family members passed away in the coal mining accident. They will be looking over you at all times. It hurt your families. I hope you feel better soon."