"It couldn't have gone any faster," said Patsy Morgan Kisner, one of the organizers of the Class of 1981's twentieth reunion held yesterday at the Calhoun County Park. Kisner said the class had about 100 graduates.

The group enjoyed a buffet lunch followed by a tour of Calhoun Middle/High School conducted by Bob Bonar. Last night the group held a dance in the park barn with DJ tunes provided by WVRC radio personality Toby Wagoner.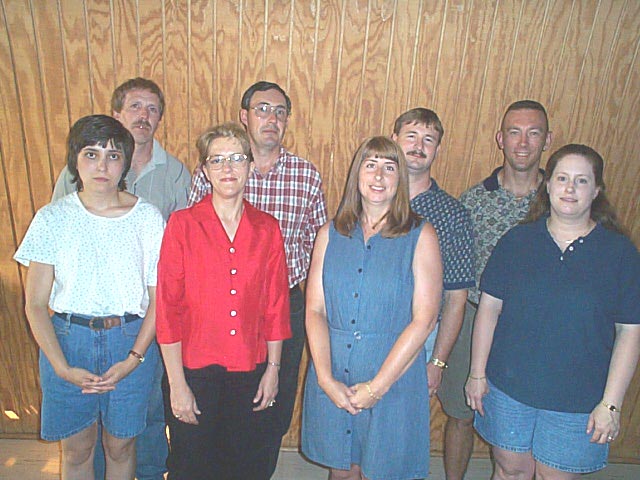 A FEW FOLKS WHO ATTENDED (Front L to R) Patsy Morgan Kisner, Norma Mace Collians, Scarlett Mowery, Kim Cheesbrew (Back L to R) Phil Kisner, Andy Collins, Richard Mowery, Mike Cheesbrew
Some of those attending: Debra Goodnight, Macfarlan; Ruth Headley Bartlett, Cincinatti; Kim Perkins Jarvis, Chloe; Kelley Hartshorn Houchin, Arnoldsburg; Richard Mowery, Powell's Point NC; Sadie Wigal, Painesville OH; Charolette Blair, Creston; Curtis Gregory, Mt. Eden KY; Dennis Spaur, Lincolnton NC; Mike Cheesebrew, Hopewell VA; Randy Harris, Grantsville; Janet Lewis, Grantsville; Earlene Crawford Thomas, Chloe; Andy and Norma Collins, Arnoldsburg; Vicki Devley Rempel, Parkersburg; Patsy Kisner, Millstone; Cindy Morgan, Grantsville.