By Bob Weaver 2008

After years of separation, a family with Calhoun roots has re-connected.

Last week was "reunion day" after 34 years for two sisters and a brother, who met in Grantsville at the home of one of the siblings, Sandra Yeager.

Traveling to Calhoun for the reunion was Jane Richards Quam, who now lives in Chandler, Arizona, and Dickie Richards Ash of Nicholas County.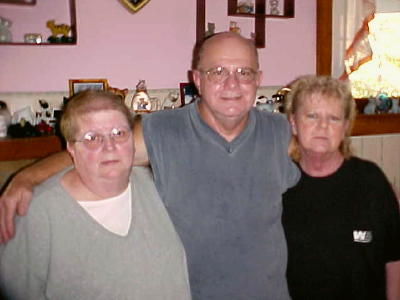 A long-awaited Calhoun Reunion
(L-R) Sandra Yeager, Dickie Ash and Jane Quam
Sandra Richards Yeager said she and her five young siblings were separated when their mother, Fern Louise White Richards, died shortly after childbirth in 1950 at the age of 27.
Fern Louise had married Lee Ondes Richards, a World War II veteran from Calhoun. Richards "gave up" the children after the death of his wife, and "never connected with us again."
"There were at least 10 foster homes, and things were not easy for most of us. One family would not let us come downstairs when company came," said Yeager.
"I was seven when I had to scrub the entire downstairs from wall-to-wall every Saturday," said sister Jane Quam. "We never got to go to a football game, and we were not allowed to watch TV."
"It was the absence of love that hurt all of us," said Quam. "It is something that still affects us even today."
Lee Ondes and Fern Louise White Richards, during happier days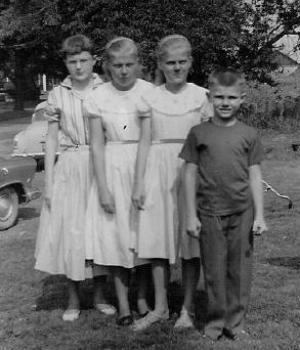 The four siblings went to many foster homes after their mother
died in 1950 (pictured left to right) Nancy, Sandra, Jane and Dickie
Brother Dickie (Richards) Ash said he was fortunate. "I was adopted by Dennis and Leno Starcher Ash at Letherbark," he said.
Other siblings include Nancy Richards Grasselli, who lives in New Philadelphia, Ohio and Ruth Richards Singer (deceased) of Indiana, and a infant who died shortly after childbirth.
Ash said some of us found each other on the Internet.
"It is a joy that we have all been able to connect," concluded Sandra Yeager.