ROACH CABIN HAS BEEN RESTORED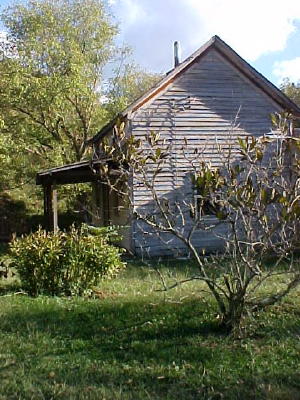 Roach log cabin, still standing along the lower West Fork,
the home of Civil War Veteran George Roach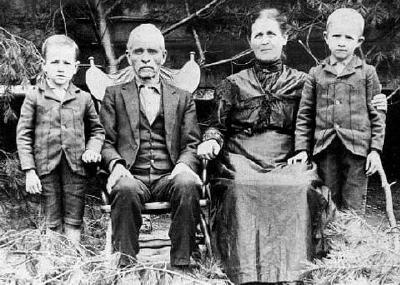 George W. and Susannah Evans Roach Family (left to right) Dan Roach, George W. Roach and wife Susannah Evans Roach, Jesse Roach
By Bob Weaver 2005
Across the road from Boat Gunnel Holler along the West Fork of the Little Kanawha sits one of Calhoun's few remaining log cabins from the 1800s.
Likely built by George W. Roach (1845-1935) and his wife Susannah Evans(1850-1929), the first Roaches to come to Calhoun from Pennsylvania, it stands a few feet from what is now called Altizer Road (originally Rocksdale), a short distance up creek from the mouth of Barnes Run.
A title search indicates the dwelling also belonged to Rachel Stevens Summers prior to 1905, who was married to Samuel F. Murphy.
It currently belongs to C. G. Hart of Lewistown MT, whose family sprung from the Creston area. Hart has expressed desire to restore the cabin.
George Roach was a a private for the Union Army in the Civil War, Company "F", 85 Pennsylvania Infantry, enlisting in 1864.
George and Susannah had lots of children, at least five sons and six daughters.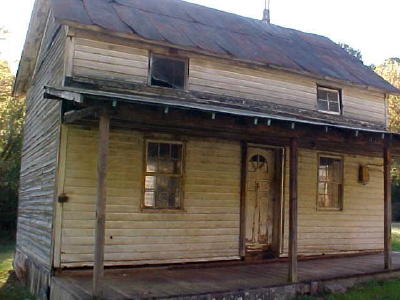 Front view of cabin at the mouth of Boat Gunnel Holler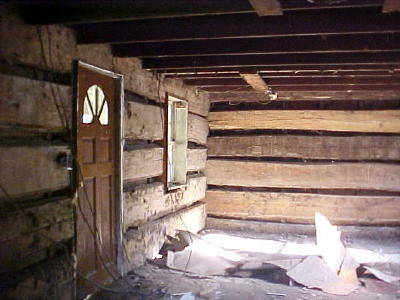 The logs have been protected by a covering of clapboard siding
The porch of the small two-story house faced the nearby West Fork, now reversed to face the road. This was once Billy "Bluehead" Starcher land, the son of original settler Phillip Starcher, whose dwelling was further upstream.
Two of old George Roaches boys were cut down early in life.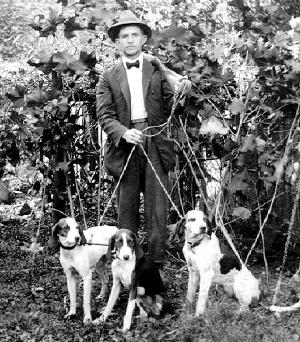 Jesse Roach was the first WWI soldier
to be returned from the poppy fields of France
The first was Jesse Roach a popular young man of Rocksdale, who gave up his life for his country in France during World War I. The first soldier to be returned to Calhoun from the poppy fields of France, he was only 22.
He was attacked by influenza while on the battle line, and died on his way to a hospital November 3rd, 1918, just a few days before the Armistice was signed.
Roach was a teacher, described by the newspaper as "one of the most popular in the profession, recognized as a young man of the highest character, his death a grievous shock to family and many friends."
A "vast crowd" attended his service at Walnut Grove, before his body was taken to the Dry Hill Cemetery near the Bluehead Church, which was named for Billy "Bluehead" Starcher.
He rests near his Civil War father.
The second untimely death in the log cabin, another son, Earnest Roach, who died with typhoid fever in 1928 at the age of 35. Earnest had married Mima Whytsell in 1912 and they had two sons, Ray and Kenna.
Earnest and Mima (Rachel Jermima) caught the fever from their dug well, along with one son Kenna. Ray escaped the disease, his mother and brother barely surviving.
After Earnest Roach died, Mima married Harry Kerby and they lived in the cabin until the start of World War II, moving to Parkersburg.
Ray Roach (deceased), other than living briefly in Parkersburg during WWII, spent his life in Calhoun, working for Grantsville Appliance and Southeastern Gas Company. He was a member of the Calhoun Board of Education. Roach married Thelma McCoy, they had one daughter, Dottie Roach Williams.
Kenna Roach (deceased) moved to Parkersburg and Belpre, Ohio and retired from Marbon Chemical Company.
Among other families living in the dwelling, Everett Starcher, William Church and Otmer Sampson.
Children of George and Susannah Roach:
Jackson (1879); Minnie (1888-1912) married Everett Kerby (1885-1967) in 1907, Daniel D. (1895) married Ilda Wagoner in 1922; Jesse (1895-1918), Earnest (1893-1928) married Mima Whytsell (1895-1990) in 1912, Maudie (1890), Marcella (1875-1955) married Richard Church (1875-1958) in 1895; Della (1874) married E. W. Hall in 1896; A. J. (1877-1935) married Arthelia Kerby (1890-1958)in 1904; Laura (1882-1970) married Herman Starcher in 1907; Mary Jane(1884-1959) married Albert J. Tanner (1887-1973) in 1909; Jasper (1887-1967) married Birdie Anderson (1890-1978) in 1912;
Others listed: Mrs. Forest Carr, Mrs. Van Mace, Mrs. Clint Mace, of Spencer, Joseph of Rocksdale and George. Jr. of Adam.