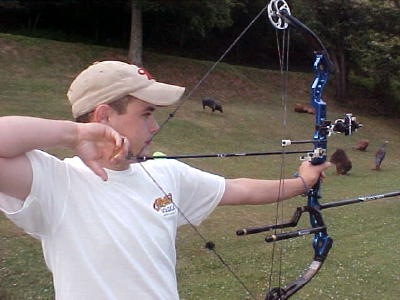 Cam practices daily at his home on Pine Creek Road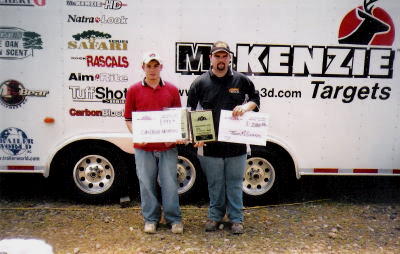 Cam and his mentor Tony McCumbers
By Bob Weaver
A Calhoun County boy is reaching for the stars with his expert bow shooting.
Seventeen-year-old Cam Nicholas of Pine Creek has won a first place national trophy for his bow shooting.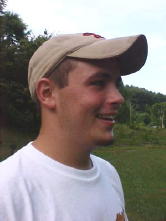 Cam (pictured left), who has been winning trophies all over the place for his expert archery, said it was worth the trip to Harrisburg, PA to participate in the Archery Shooters Association (ASA), "Although I didn't like missing the Wood Festival."
Out of a possible 400, Cam shot 418 with 15-12s to take his first national prize trophy.
"It has been a lot of travelin' this year, but it has been a lot of fun," he said.
A grand finale for Cam is the "world shoot," coming up at Snowshoe, WV in August.
Even more impressive, the young shooter is leading the points race in the ASA for "Shooter of the Year," a national championship which narrows down from about 60 shooters.
Cam is also in a tight race for "Shooter of the Year" in the IBO.
He has also won the National Field Archery Association (NFAA) WV Indoor Championship in the hunter class and third place in the freestyle class.
Cam shot in Louisville in the NFAA National Indoor Championship, shooting 600 with 111 x's, taking third place.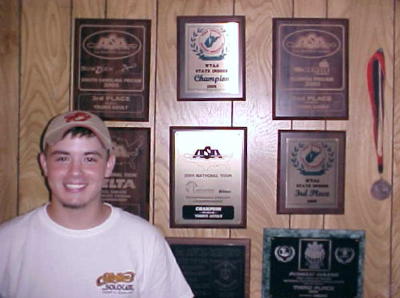 Cam has a wall of trophies, plaques and awards for his shooting
He is currently shooting a Matthew's Q2XL and is sponsored by Gary's Sporting Goods in Spencer.
Cam said Paul and Randy Parsons got him started with the sport.
"I want to thank Tony McCumbers, my current mentor, role model and travelin' partner," he said. "Kevin Miller is another important person with my shooting. He has sponsored, coached and taught me a lot."
"Then there are my travelin' partners, Darrin Campbell and Bill McCumbers, who put up with me," he said.
Cam is the son of Rick and Lisa Nicholas of Pine Creek and the grandson of Susan Nutter and Cleston and Helen Nicholas of Grantsville.
Cam's dad said "It has been a lot of hard work on his part. He didn't just show up and have it happen."