Don Ponder has maintained "Don Ponder's Outhouses" web site for several years. Among the first he placed on his site was the Weaver outhouse from downtown Hur.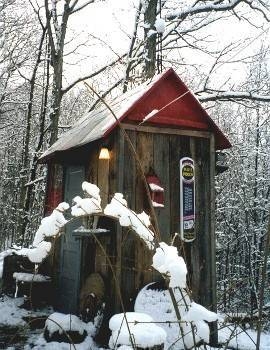 The Weaver Outhouse, Hur, West Virginia
Down the gravel path behind the Weaver abode in East Hur is a new, highly functional outhouse, possibly among the finest in Calhoun County. It is electrified, heated, lighted and even has running water gravitating from a roof tank.
A small library of books and magazines are on the shelves for readers to wile away the time on the one-holer, or they can be amused by the stereo system, karaoke or small screen TV.
There is a weather radio for updates. The walls are decorated with old calendar prints, photos and newspaper clippings. There are several amusing toys, including an electronic magpie, which repeats everything it hears. Tiny replicas of bugs and spiders are glued around the walls to recreate the atmosphere of "an honest outhouse."
For those concerned about safety, a lightning rod protrudes from the roof. Old WV license plates have been nailed to the outside, a tradition with early outhouses. The exterior is adorned with horseshoes, a thermometer and informative signs.
The outhouse reposes in the Village of Hur, the county of Calhoun WV, a small place that's not infested with superhighways, fast food joints, and shopping malls. Not a single stoplight in the county.
Don Ponder's Outhouse Tour www.donponder.com