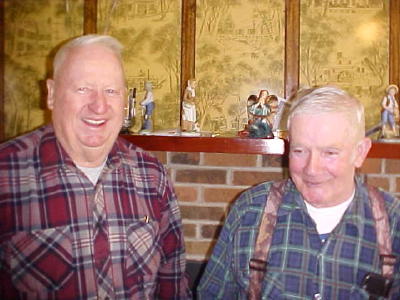 Jim Bell (left) and Donald Stevens (right) Calhoun's History Heroes
Calhoun has two "History Heroes" to be recognized tomorrow at WV History Day at the legislature.
James Bell and Donald "Ducky" Stevens of Grantsville, members of the Calhoun Historical Society, have been selected for the recognition and will be awarded certificates by Gov. Joe Manchin and his wife Gayle.
Bell and Stevens by "sweat of the brow," hundreds and hundreds of volunteer hours and on-going dedication have helped complete a number of projects to preserve Calhoun history.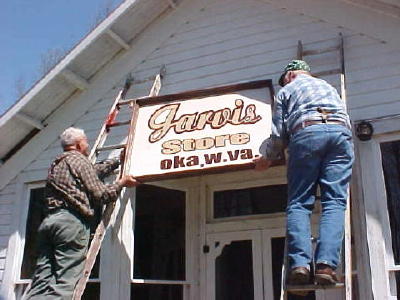 Bell and Stevens hanging sign on Jarvis Store at county park
Two projects which have held their attention, helping complete the Stevens one-room school and the moving of the Jarvis Store to the historical village at the county park.
"Sometimes it's just hard work, but the other time is putting on the finishing touches," said Bell, who said they are always grateful for the help they have received.
Bell and Stevens are currently working toward moving Charley Starcher's old blacksmith shop at Hur to be part of the historical village.