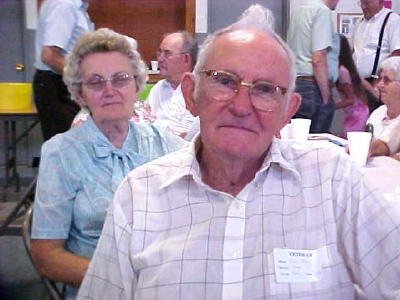 Cecil Sturm and his wife Tressie at Veteran's Dinner in Arnoldsburg
One of Calhoun's World War II soldiers has passed.
Cecil P. Sturm of Arnoldsburg, a Purple Heart and Bronze Star recipient, died February 26 at the age of 90.
Sturm served in the Pacific Theater and recalled his experiences when the Japanese attacked Pearl Harbor:
Speaking of his parents, "I was one of their four sons in World War II. Jesse, Roy Jr., and Chester, all serving in the US Army ... On December 7, 1941, the day the Japs attacked Pearl Harbor, I was in Washington DC.
I had been at Pearl Harbor before the attack, but we returned to Norfolk to have the USS Yorktown overhauled. We came through the Panama Canal and I left the ship in Bermuda.
The morning after the Japs attacked Pearl Harbor I was in Washington, standing and looking at the Tomb of the Unknown Soldier.
The cab driver came up to me and told me about Pearl Harbor being attacked ... I didn't believe it. The driver said every serviceman was to report back to his duty station or ship. I went right back to the USS Yorktown and we headed for the Pacific, back to Pearl Harbor.
We were told that the USS Arizona and two or three other ships had been sunk, but when we pulled into the harbor we saw ships' masts sticking out of the water everywhere.
My main concern was to get to Scoffield Barracks to find my brother Roy Jr. The taxi driver said there was no need to go, most everyone had been killed. I went anyway, got out of the cab and was walking toward the barracks. Roy Jr. (his brother) was the first guy I met. He was walking down the steps. Seeing my brother alive was the happiest event of my war experience."
Surviving, his wife, Tressie Wilson Sturm; two sons, Ron Sturm and his wife Connie of Morgantown and Larry Sturm and his wife Lora of Ripley; daughter Sharon Wilt and her husband Mike of Ripley.
Three brothers, Carl Sturm of Millstone, Jesse Sturm of Mesa, Arizona and Chester Sturm of Parkersburg; two sisters, Willa Stump of Grantsville and Helen Cain of Hawaii.
Also six grandchildren and two great-grandchildren.
He was preceded in death by his parents, Roy and Florence Ferrell Sturm, and two sisters Ruth Starcher and Elsie Smith.
Funeral services will be held Wednesday, March 2, at 11 a.m. at Stump Funeral Home, Arnoldsburg with the Rev. Rick Swearingen officiating. Burial will be in the Sturm cemetery at Millstone.
Visitation from 4:30 p.m. until 8 p.m. Tuesday.