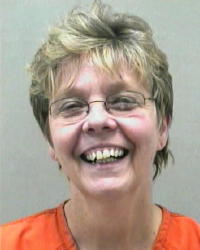 When people are admitted to jail, to say the least, it is likely unpleasant and depressing, burdened with the fact they have likely committed an offense against the people of their community.

Forty-two-year-old Ruby Marie Woodyard from Upshur County, however, appears to be having a good time during her booking today at Central Regional Jail at Flatwoods. She may well be the happiest looking person ever posted on the correction departments web site.

I couldn't help but think of that old Kenny Rogers song "Oh Ruby, don't take your love to town."

Despite the fact she is being incarcerated for DUI, somehow her photo elicits favorable thoughts, but knowing her condition there is an awareness that she will not be so joyful later in the day, hopefully recognizing DUI is a serious safety crime.

We hope Ruby gets well and returns to Upshur County, never to drive under the influence again.